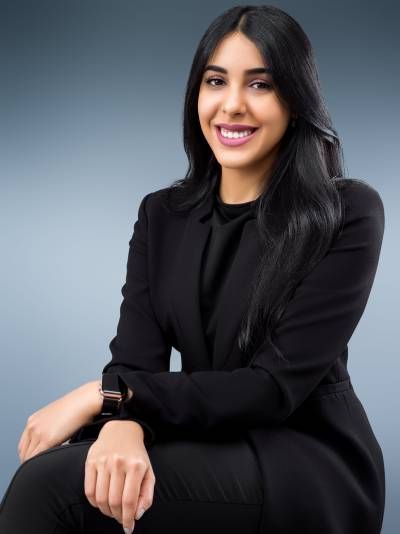 Can you tell us a bit about your entrepreneurial and scientific journey?
I've been always passionate about science and technology and I loved exploration since a very young age, hence, I decided to study Electrical and Computer Engineering for my bachelor's to learn how devices work and how can I build new devices. After completing my bachelor's, I found myself wondering about how nanoelectronics works, which is not the level of education covered in the bachelor's level. Therefore, I decided to do my master's in electro physics and nanofabrication of silicon devices. It was a very enriching experience, I loved this field of science, and excelled in it and I received the L'Oreal UNESCO Award for Women in Science for my Reconfigurable Silicon Electronics research as it was classified as ground-breaking research that significantly contributes to scientific knowledge.
As a dreamer, I love to see the impact of my work on the everyday life of humans, and I always wanted to build a research spin-off business as working on science, technology, and innovation is what keeps me motivated. However, bringing my Reconfigurable Silicon Electronics project to life as a product would need a lifetime of work, a tremendous amount of funding, several PhDs, and a sophisticated research facility. As a 26 years old researcher, I couldn't envision how would I pursue this project and I started exploring other research topics that can potentially contribute to environmental sustainability. During one of my Ph.D. courses, I came across a research paper that presents the effects of ultraviolet light on extending the shelf life of fresh food. I was extremely fascinated by that magical effect and I was able to imagine its positive impact on consumers, businesses, and the environment. As a highly skilled Electrical Engineer, the first thing I did was to build a working prototype. I also applied to an entrepreneurial program in Silicon Valley, California to study entrepreneurship. Once got accepted, I relocated to California and I spent 1 year there.
What inspired you to start this food tech company?
That program was an excellent pre-accelerator that teaches the basics of entrepreneurship. By the end of the program, there was a final pitching competition, where 116 participants had to pitch their ideas to more than 30 Silicon Valley investors. There, my startup "Uvera" was ranked first as the most investable business idea among 116 ideas by the investors and received several funding offers. A few months later, Uvera was ranked by SoGal foundation among the top three women-founded early-stage startups in San Francisco and won second place at the MIT EF startup competition. Afterward, Uvera received an incubation offer from KAUST, which includes office space, access to prototyping laboratory, and microbiology facilities and we started the product development at that point.
The MENA region wastes up to 250 kilograms per capita a year of food. Tell us more about Uvera, and how you are disrupting the food-tech industry. How much impact does Uvera have on food waste?
I believe that nobody wants to waste food. And if there is a solution that can prevent or reduce wastage, the food tech industry will be interested in it. Uvera technology has been developed to help businesses and consumers avoid wasting food. The technology can increase the shelf-life of fruits by up to 141% on average, vegetables by up to 123% on average, and meats by up to 33% on average, without any use of chemicals and within a few seconds of use, and it is powered by artificial intelligence to track the food inventory and the shelf-life of food during the storage period.
What have been your biggest challenges in the last few years and how does the current economic crisis impact Uvera from an innovation standpoint? What resources have you used to overcome these challenges?
The biggest challenge the company faced was building and testing our devices during the covid-19 lockdown and the travel ban in 2020 and 2021. We overcome this challenge using the 3D printing technology, where we purchased 5 3D printers, two of which are in our Turkey office and three in our Saudi lab. The design team in turkey makes the design and sends the source files to the fabrication team in Saudi Arabia so we can print the design to test it. Besides that, we used to ship circuits, electronics, and various parts from Turkey to Saudi Arabia and vice versa. We eventually managed to build 14 working devices for households and launch our private beta test, which was a big success.
Although it was a tough time for the company, passing through it successfully improved the unity and resilience of the team. As our household product -named Aurora- was sent for manufacturing in May 2022, the engineering team is now focused on building our second product for fruit distribution centers and retailers. Our progress with the B2B product is incredibly faster as the team has developed a strong technical base and acquired the know-how during the two years that we spent building and testing Aurora.
UAE and Saudi Arabia have pledged to reduce food waste by 50 percent by 2030, aligning with the 12.3 Sustainable Development Goal set by the United Nations. What is your contribution to these goals? What do you hope to achieve by 2030?
Uvera was founded in 2019 to address the UN SDG 12.3, where the mission of the company is the UN SDG 12.3 itself. We do this by prolonging the shelf-life of perishables without using chemicals nor affecting the foods' sensory characteristics such as taste, appearance, aroma, and texture. This shelf-life increase will allow households to keep their participles fresh for longer and reduce their grocery visits and will reduce the spoilage rates for fruit distributors and retailers. However, the shelf-life increase isn't enough to achieve the UN SDG 12.3, because we -humans- can't improve what we can't measure. As the latest UN Food Waste Report indicated that: "Food waste data availability is currently low, and measurement approaches have been highly variable", we created a waste reporting feature in Aurora to open the door – for the first time ever- for the UN, WFO and more organizations to attain accurate food waste data from households and help them take measurable actions towards achieving the UN SDG 12.3.
When are you launching?
Aurora is currently in the manufacturing stage, and we expect the first batch to be available in the market in Q2 of 2023.
Not only are you an accomplished research scientist, founder, and CEO of Silicon Valley-backed Cleantech company Uvera, but you also are one of the many Saudi women working to empower women by providing them with opportunities. Tell us more about this and the important work that you do.
Women constitute 50% of the Uvera team, where they lead and contribute to various roles such as management, operations, engineering and product development, and scientific research. I believe that diversity is an important factor for corporate success.
Globally, the hospitality industry is responsible for over $100 billion in food waste costs. What plans do you have to make Uvera available to hospitality industries such as restaurants and kitchens? What do you want Uvera to grow into?
The technology team is currently building our second product that aims to serve the fruits distribution centers and retailers. We are planning to launch our private beta test soon in an organic farm that has its own distribution channels.
Is there any advice you would like to share with aspiring Female food and beverage tech entrepreneurs?
I wish through my work to raise the threshold of women's achievements and to inspire the female scientists and entrepreneurs in the region to persevere.