06 May 2021
EPISODE 2 - 3FILS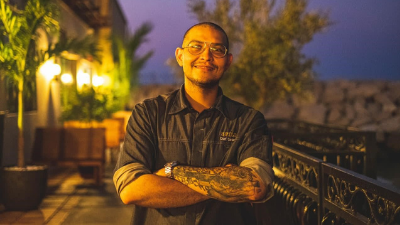 TUNE IN ON:
YouTube Chef JKP Website Spotify Rss Feed
Before being becoming a chef, Carlos actually had a job with the army, working with intelligence, so he fully understood hierarchy, discipline, and to follow orders, but even with this background, it did not prepare him for how volatile a professional kitchen can be.
His very first step into the culinary world would be in London, under the leadership of Michelin starred Adam Gray.
https://www.chefadamgray.co.uk
London is notorious for how their kitchens are run, and this one didn't disappoint, dynamic, energetic and passionate.
Adam showed him how to be more disciplined as a chef as well as how to organise his personal life, plus he showed Carlos how to become a leader.
James and Carlos also touched upon how mental health is one of the biggest challenges that people are facing in the industry, and why it is so important to discuss these issues, this was one of the reasons the Dubai Chef's Collective was formed, and also organisations like Hospitality in Action.
https://www.dubaichefscollective.com
https://www.hospitalityaction.org.uk
Carlos is one of the most talented chefs, not only that, he is one of the most intellectual, combining his love of food with his own knowledge - a true food geek in his own way. If you haven't experienced his food, please do so as soon as possible, follow him on Instagram - https://www.instagram.com/chefdegarza
Stay tuned for next weeks show, we talk to one of the of the best food writers in the region!
Tune in: