09 Jun 2021
HFZA SIGNS INVESTMENT DEAL WITH SAUDI ARABIAN COMPANY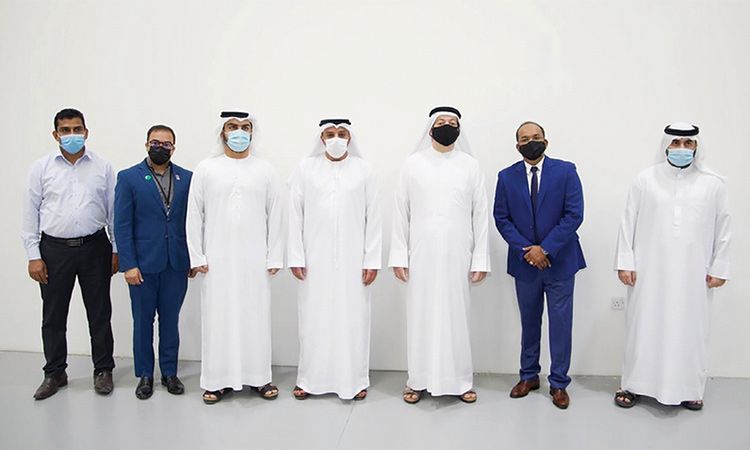 The Hamriyah Free Zone Authority (HFZA) has signed an investment agreement with Medtra, one of the world's major companies in the production and manufacturing of healthcare equipment and products, to expand the latter's operations in the Mena markets.

Under this agreement, Medtra, which operates in 40 countries worldwide, is set to invest about Dhs100 million in HFZA through the construction of state-of-the-art manufacturing facilities in accordance with the latest technologies and innovations.

Headquartered in Saudi Arabia since 2004, Medtra is serving the Mena's health care sectors, food, agriculture, farming, poultry, hospitality, oil and gas as well as industrial sectors with more than 3,000 high-quality products, while the company has been serving the UAE market since 2013.

The opening ceremony of the company's new headquarters was held in the presence of Saud Salim Al Mazrouei, Director of Hamriyah Free Zone Authority and Saj Sulaiman, Chairman of Medtra who toured Medtra's new manufacturing facilities and was briefed on the latest innovations the company counts on in the production of healthcare products and supplies.

Commenting on the new deal, HE Saud Salim Al Mazrouei said: "Our agreement with Medtra to start investing in HFZA is yet another testament to Sharjah's outstanding position as a global business destination. Meanwhile, choosing Sharjah as a new headquarters for the company amid rising demand for healthcare and hygiene products due to the Covid-19 pandemic clearly reflects the robustness and reputation of the emirate's business environment at the global level in these challenging times."

"In today's fast-paced environment, we see a lot of global and multidisciplinary companies opt for Sharjah to kick-start their operations in the region. At HFZA, we support the companies by offering fantastic benefits and facilities that help them achieve their economic aspirations," added Al Mazrouei.

He stressed that the new agreement reflects the diversity of foreign investments in the country and the region, in line with the wise directives of His Highness Sheikh Dr. Sultan Bin Muhammad Al Qasimi, Member of the UAE Supreme Council and Ruler of Sharjah, to support the business sector, provide top-notch services for investors, and strengthen the economic performance of the emirate through the implementation of economic diversification plans and reinforcement of Sharjah's status as a major industrial hub.

Saj Sulaiman, Chairman of Medtra, said: "As we understand and experience the vision of UAE and the comfort and opportunities they provide to investors and encouraging new innovations, we decided to move our production units specifically to Hamriya Free Zone due to the ease of operations as well as its 360-degree connectivity and being a key gateway to international trade."

In addition to offering industrial and commercial plots of land, HFZA, the second-largest industrial-free zone in the UAE, provides advanced infrastructure and modern facilities that strengthen external expansion plans for investors, especially with importing and re-exporting to the world's markets. It also provides countless competitive advantages, most notably a single-window operation that boosts the efficiency of performance and eases procedures of doing business, along with multiple tax exemptions, repatriation of capital and profits, full foreign ownership of the business, and quick access to regional and global markets.

Earlier the Hamriyah Free Zone Authority (HFZA) has added one more industry leader to its global base of investors after signing an investment agreement with Al Aliyo Hydrofarms, the hydroponic fodder farming industry.

The company will be based in the Sharjah Food Park where it will rent two warehouses spanning over an area of 12,000 sq. ft and is expected to commence operations in May 2021, becoming the company's first headquarters in the regional markets.

It will run the UAE's first unique project to produce and grow organic fodder for livestock in hydroponic farms based on an innovative concept using the latest technologies in the field.

The agreement was signed on the sidelines of Gulfood 2021 by and between Saud Salim Al Mazrouei, Director of Hamriyah Free Zone Authority, and Tarannum Malik, CEO of Al Aliyo Hydrofarms.

"Our process of growing fodder utilises modern technologies, which will produce the best quality of organic, fresh and healthy fodder for livestock. Our concept of farming is independent of weather, temperature and atmospheric conditions. Additionally, our entire process is 100 per cent organic; there is no usage of pesticides or fertilisers. Moreover, there is no wastage," the company said.

Speaking on the occasion, Al Mazrouei said: "The Emirate of Sharjah has become a primary destination for companies looking forward to marketing their innovations across multiple economic sectors. This would not have been possible had not been for the competitive advantages being offered to investors by Sharjah and its free zones, something which motivates them to expand in the emirate's markets and turn it into a hub for their operations in the Middle East.

"We always feel proud to attract innovative companies seeking modern and unconventional concepts. We are ready to provide all the facilities that would enhance the competitiveness of our investors, streamline their operations and ensure their efficiency in the labour market. Today, we are delighted to announce that Al Aliyo Hydrofarms will join the list of investors operating in the free zone, and we look forward to harnessing our vast experience to help it grow and develop in the region's markets like never before," Al Mazrouei added.

"Hamriyah Free Zone spares no efforts to attract foreign investors and Gulfood 2021 has been as a perfect platform to introduce international food companies to the unique investment environment and opportunities available at the free zone and the Sharjah Food Park, the region's first and largest city that houses 1,700 companies operating in food manufacturing, preservation, packaging, re-packaging, import, and export to markets around the globe. Gulfood has seen substantive discussions with a number of international companies interested in making Hamriyah Free Zone the headquarters of their operations," he stated.