Alpha Trading Partners PLC
Hall: Za'abeel 6 Stand: Z6-G21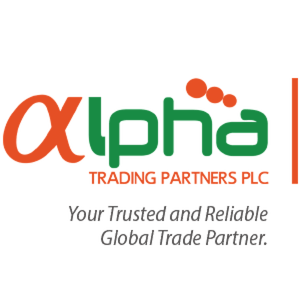 ALPHA TRADING PARTNERS PLC
Your Trusted and Reliable Global Trade Partner.
Founded in 2000, Alpha Trading Partners (ATP) offers an extensive range of top quality oilseeds, pulses, spices and green coffee beans of Ethiopian origin. ATP exports agricultural products cleaned, sorted, processed and packed with state-of-the-art technology, and transloaded into containers for shipment around the world.
OUR PRODUCTS
OILSEEDS
WHITISH SESAME SEEDS - HUMERA
WHITISH SESAME SEEDS - WOLLEGA
REDISH SESAME SEEDS
LIN SEEDS
SUFFLOWER SEEDS
GROUNDNUT SEEDS
NIGER SEEDS
RAPE SEEDS
PULSES
RED KIDNEY BEANS
GREEN MUNG BEANS
DESI CHICKPEAS
LIGHT SPECKLED BEANS
PINTO BEANS
RED SPECKLED BEANS
KABULI CHICKPEAS
WHITE PEA BEANS
SOYA BEANS
FABA BEANS
VETCH SEEDS
COFFEE ARABICA
YIRGACHEFFE
LIMU
TEPPI/BEBEKA
SIDAMO
GIMBI/LEKEMPTI
DJIMMAH
HARRAR
CONTACT INFORMATION
Website: www.alphatrading-eth.com
E-mail: tewodros.y@alphatrading-eth.com
Mobile: +251 91 120 3254
Office Telephone: +251 11 550 4600
P.O.Box: 1533 Code-1250
Addis Ababa, Ethiopia.
Address
Africa Avenue, Kirkos Sub City,
Bedesta Building, Third Floor, Suite No. 303,
Addis Ababa
Ethiopia.
P.O.Box: 1533 Code-1250, Addis Ababa,
Ethiopia