07 Mar 2021
Entrepreneurs Are Well Placed To Tap Into Opportunities Presented By The UAE's Food Security Agenda: Insights From A Dubai Chamber Analysis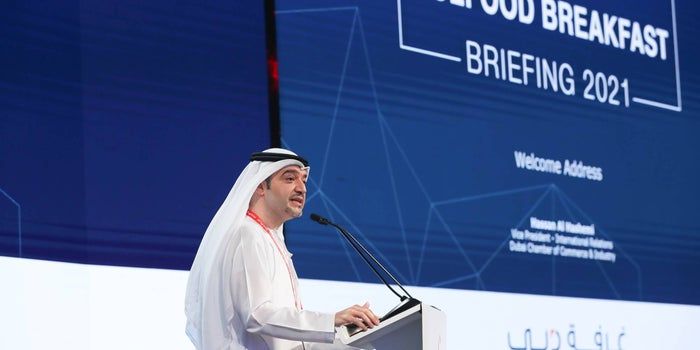 Dubai Chamber of Commerce and Industry outlines top opportunities for startups and SMEs in the UAE's thriving food and beverage (F&B) industry as part of the nation's innovation-driven food security strategy
The race to solve food security in the UAE, as well as the wider Middle East and North Africa (MENA) region, presents significant opportunity for startups and small businesses.
That's according to the Dubai Chamber of Commerce and Industry, which signaled major demand for innovation in food manufacturing, agriculture, and halal food, for the post-pandemic future.
In a briefing held on the sidelines of Gulfood 2021 –the world's biggest annual food and beverage trade exhibition, which took place in Dubai last month– the Chamber said the value of online food and beverage sales in the UAE is projected to reach US$619 million by 2025, and record a compound annual growth (CAGR) of 8.5% over the 2020-2025 period.
Dubai Chamber's analysis, based on data from Euromonitor, also said online sales within the UAE's food and beverage market surged 255% year-over-year in 2020 to reach $412 million.
Speaking at the event, Hassan Al Hashemi, Vice President of International Relations at Dubai Chamber, said that the digital transformation encouraged by the COVID-19 crisis had been a key factor in driving the exponential growth in the country's F&B e-commerce sales last year.
The upward trend was crucially supported by the nation's advanced technology infrastructure, world-class logistics facilities, high-internet penetration rate, and high disposable income, he added, driving Dubai to become "a leading example of a city that leveraged technology and global partnerships to enhance food security" to navigate challenges during the coronavirus outbreak.
Proactive measures
From small grocers to giant chains, food retailers across the world saw their shelves stripped bare last year when panicked shoppers began hoarding supplies as worries about the coronavirus began to escalate in March.
Some outlets even imposed limits on the number of items each person could buy, with serious concerns about freight disruptions due to border closings and suspension of travel.
But, even though the majority of food consumed in the Gulf is imported, the UAE's shelves remained well-stocked despite global supply-chain challenges owing to the National Food Security 2051 that it crafted a few years ago, noted Mohammed Bin Sulaiman, Senior Manager – Business Relations at Dubai Chamber.
Key pillars of the strategy include facilitating global agri-business trade and diversifying international food sources, enhancing sustainable technology-enabled domestic food supply across the value chain, and enhancing capacity to respond to food security risks and crises.
Looking ahead, the Dubai Industrial Strategy 2030 –which is aimed at transforming the economy to a knowledge-based economy by having an innovative and sustainable industrial sector in the Emirate– will be central to increasing the output of F&B manufacturing, strengthening resilience and advancing food security, Bin Sulaiman added, which is where startups and small businesses have a crucial role to play with tremendous opportunities on the horizon.
"Startups are very much on our agenda [as] we are looking to localize some of the production capabilities," he explained. "We live in a very harsh environment, we have scarcity of water... and as a result, we invite innovative companies and innovative solutions to come and showcase their solutions in this region."
The UAE ranks first in the MENA region and 18th globally for attractiveness investment environment in the F&B sector, Bin Sulaiman said, and its status has been further augmented by the UAE government's proactive policy response during the crisis that has helped businesses keep the lights on despite the hard-hitting economic circumstances.
"2020 has been a very unusual year," Bin Sulaiman said. "Many businesses came to a complete stop... So, the government rolled out a number of initiatives to help sustain the SMEs that are operating in Dubai [including] giving discounts and waivers on many terms, to ensure the private sector sustains through the very difficult period. The UAE government keeps on enhancing and trying to improve the business climate in the country. Several other initiatives have also been [introduced] such as the relaxation in the ownership of foreign companies operating on the mainland, major amendments to [residency and citizenship] laws to attract talent in sectors we think are critical and can add value to the economy, [and] a comprehensive economic stimulus package."