02 Jun 2022
Meza Malonga: The Afro-fusion food making waves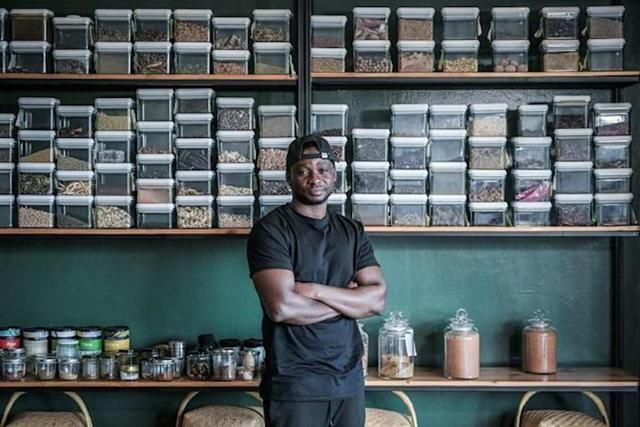 As I walked up the stairs and stepped inside Meza Malonga, I was instantly drawn into the chic, minimalistic dining room. White brick walls were accented with leafy plants, bold paintings and wooden shelves framing decorative gourds, beaded necklaces, woven baskets and earthen ceramics from around the African continent. Windows opened to a mesmerising view over the lush hills of Kigali, a vivid green by day and aglow with the twinkling lights of houses by night. A few wooden tables were spread out across the intimate space as soulful lyrics and low strums of the ngoni (a traditional stringed Malian instrument) reverberated in the background.
"Meza Malonga isn't a restaurant; it's a home where people come to experience food," said chef Dieuveil Malonga, as he welcomed me. Tucked into quiet streets of the Remera neighbourhood in Kigali, Rwanda, it's also an innovative synthesis of food and storytelling infused with African culture.
In the Bantu language, meza means "table". What's on Malonga's table then? Each day brings a new array of colourful creations, crafted from the fresh bounties of the season. The menu is ever-evolving as the chef refines his concept of Pan-African cuisine. From sorghum bread topped with delicate white moringa flowers and whipped avocado cream to shrimp dusted in nutty ground djansang seeds, each carefully curated course tells a story – or two – about Africa.
The drought-resistant moringa plant is native to Africa (and Asia). The djansang seeds originate from Cameroon. The shrimp is sourced from the shores of Mombasa, Kenya. And the sorghum grain has 5,000-year-old roots in Ethiopia.
Malonga blends culinary influences from the Maasai, Bantu and Xhosa peoples – and beyond – as he interprets their diverse flavours, ingredients, history and ecosystems to create an Afro-fusion gastronomic experience. His culinary ethos: to incorporate indigenous ingredients from across the continent into recipes originally made by grandmothers – and elevate them using modern techniques.
"One of my favourite parts of running Meza Malonga is when people who know African cuisine say that my food reminds them of something they ate when they were young, something made by their grandmother," Malonga said. "That is so amazing to me."
My eyes were drawn to rows of glass bottles filled with bright orange, pink and yellow liquids. "This is an experiment that isn't quite ready," Malonga said. "We are fermenting passionfruit, tree tomato [a local Rwandan fruit deeply red in colour and loosely resembling a plum] and other juices from local fruits. For this project, we use old recipes we find here in Rwanda. We travel between villages and learn how to ferment sorghum, maize, banana and other fruits."
So far, he has experimented with more than 25 ingredients, drawing on a traditional process that involves fermenting fruits and grains with spices such as mbongo [also known as alligator pepper] from Cameroon, or sorghum, for up to a week. After removing the spices, he pasteurises the liquid, which has by now become alcoholic. Eventually, Malonga hopes to pair each of these homemade liquors with a food course.
These rural areas don't always have electricity, so food preservation is very important. In addition to fermentation, Malonga has also learned how to dry vegetables, fish and meat, which he said not only preserves the food but also "enhances flavours".
Although he was born in the Republic of Congo, Malonga moved to Germany when he was 13, where he longed for his grandmother's cooking from back home and reminisced over ingredients like cassava leaves, okra, wild mango and pineapple. From a young age, he had a distinct love for food, and it was an obvious choice to follow a culinary career. By age 15, he enrolled in culinary school at Adolph-Kolping-Berufskolleg in Munster, Germany. Although he later worked in some of Germany's Michelin-star restaurants, including Schote, Aqua and La Vie, where he quickly moved up the ranks, he dreamt of opening his own place, one that reflected the flavours and memories of his childhood.