How Majid Al Futtaim Is Raising Food Security In The UAE through Hydroponic Farming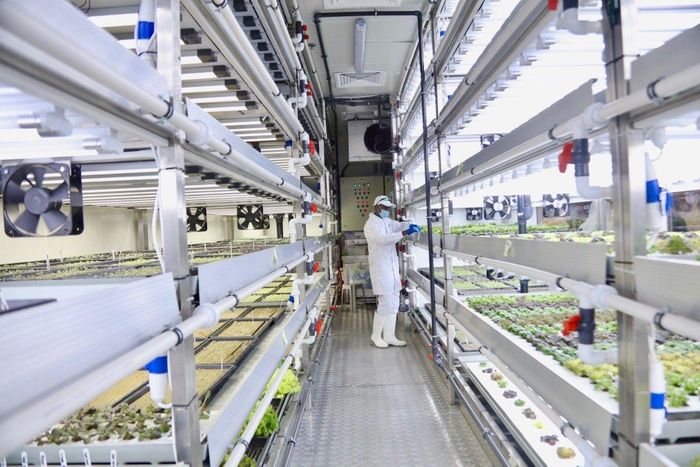 With growing concern surrounding the risks posed by synthetic foods to health, there has been an increase in demand for crops and vegetables grown in a safe and controlled environment. Particularly in the wake of COVID-19, hydroponic farms offer an agricultural solution to food waste, disrupted supply chains, and labor shortages. According to Future Market Insights, the global hydroponics market is expected to surpass $4.5 billion by 2029.
Capitalizing on this growing demand, on Monday Majid Al Futtaim Retail announced the launch of its latest project - Dubai's first in-store hydroponic farm located in the Carrefour UAE Market at the Al Wasl branch. The launch is the result of a recently renewed memorandum of understanding between the Ministry of Climate Change and Environment (MOCCAE) and Majid Al Futtaim Retail, operator of Carrefour in the UAE, to sell locally grown agricultural products across all Carrefour stores in the country for the third consecutive year.
The MOCCAE's field studies show that hydroponic production accounts for four times the production level of traditional agriculture. They use 90% less water and less space than traditional farms to deliver around 10kg of fresh herbs and microgreens a day.
As part of the MoU, Majid Al Futtaim also handpicks local suppliers for its Carrefour stores following stringent safety and hygiene audits, particularly for those producing food commodities. The farm contributes to Majid Al Futtaim's Net Positive commitment, which aims to offset the company's water and carbon footprint by 2040. A leading retail and leisure pioneer in the Middle East, the Majid Al Futtaim Group reported a revenue increase of 1% year-on-year to $9.58 billion in 2019. The conglomerate is owned by Emirati tycoon and billionaire Majid Al Futtaim, whose estimated real-time net worth is $3.7 billion.
Faith in this sustainable form of sourcing produce has been growing in the UAE in spite of current world affairs. Earlier this month, Abu Dhabi Investment Office (ADIO) made headlines announcing plans to invest $100 million in total in four AgTech companies building facilities in Abu Dhabi. UAE-based AgTech startup Madar Farms was listed as one of the investment's recipients. Another AgTech business in the UAE, Pure Harvest, secured a $20.6 million in Series A financing with a commitment for future expansions from Kuwaiti investment firm Wafra.
On the government level, the UAE has prioritized organic agriculture and has seen an increase in organic farms. Through the country's Modern Agricultural Technologies Adoption Accelerator Programme, the UAE is aiming to strengthen food security by relying on the development of agricultural production and food technologies. The UAE aims to rank first on the Global Food Security Index by 2051. In 2019, it moved up 10 positions within a year, landing at number 21 out of 113 countries.
Source: https://www.forbesmiddleeast.com/billionaires/world-billionaires/elon-musk-may-bank-the-biggest-payday-of-his-life-during-global-pandemic