Lacnor spreads Happiness amongst the UAE Community this Ramadan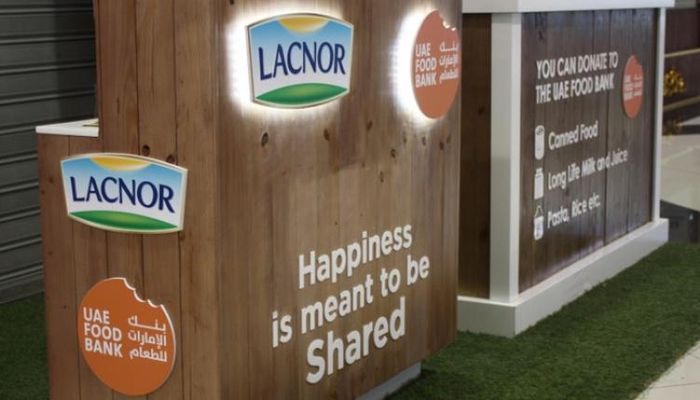 Dubai - MENA Herald:
Lacnor, UAE's leading player in the fruit juice and dairy sector, has officially launched its Ramdan Campaign – 'Happiness is meant to be shared', encouraging the act of giving among residents during the holy month of Ramadan.
As part of Lacnor's philosophy to encourage a better quality of life for all, the brand has taken on the initiative in partnership with UAE Food Bank to promote happiness within the community and help people make a difference through the donation of everyday essentials to families in need.
Lacnor will host stands across the city for residents to donate long shelf life food that will be redistributed to those in need during Ramadan. The food donation stands will be located at all major Lulu outlets in Dubai and accepting donations from 1pm to 10pm, every weekend from Thursday to Saturday, until June 1st. As a small thank you for their generosity, each consumer that contributes will receive a limited edition Lacnor Souvenir pin from the brand.
Commenting on the occasion, Sharif Ramadan, Head of Brands Lacnor, said: At Lacnor we believe that good health is the cornerstone to happiness and every member of our community deserves the opportunity to lead a good and healthy life. We are grateful to all our partners, the UAE Food Bank, employees, consumers and community members who helped bring this campaign to life and hope it will add happiness and joy to millions of people across the UAE.
Also commenting on the partnership Iman Albastaki, Director of Food Safety Department, Dubai Municipality shared, "Ramadan is the month of giving, and we are pleased that we are partnering with NFPC, to help achieve the UAE Food Bank's main goal, which is to help people in need."
Lacnor will also be embracing the spirit of giving with an additional collaborative initiative wherein the brand will be donating 93,000 juice boxes to the UAE Food Bank, for inclusion in iftar boxes that will be distributed daily at various labor camps across the UAE. Lacnor's team will be present on a few of the days to assist with distributing the donations made.
Donation Stand Details:
When: May
23rd – 25th
30th – June 1st
Where: Lulu outlets across Dubai
Time: 1pm to 10pm
Items: All long shelf life products accepted