15 Sep 2020
Meat-Tech 3D expands cultured meat with printed tissue and acquisition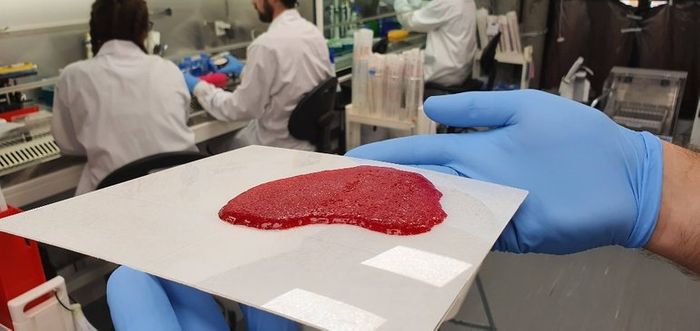 Until late last year, very few had heard of Israel-based 3D-printed cultured meat company Meat-Tech 3D.
But after Meat-Tech merged into real estate and holding company Ophectra Real Estate & Investments in October 2019, essentially making its debut as a publicly traded company on the Tel Aviv Stock Exchange, it's been in the public eye. Simon Fried, the company's head of business development, said Meat-Tech was essentially born as a public company, but it's truly a research and development operation.
As the only cultured meat company that is publicly traded on any exchange right now, Meat-Tech is starting to make waves. In the last month, Meat-Tech printed its first uniform meat tissue produced from stem cells, created a daughter company dedicated to making cell-based chicken called Chick&Tech and announced the pending acquisition of a cultured animal fat company for approximately $17.5 million in cash and equity.
Meat-Tech takes stem cells from umbilical cords of animals and grows them into different types of cells used in meat, including muscle tissue and fat. Those cells are formulated into inks for 3D printing. The company also will create a scaffolding structure to get those different cells arranged into what looks and behaves like conventional meat. The company has a roster of food scientists, cellular experts and 3D printing experts, as well as a list of milestones they hope to meet by certain dates. They also have applied for four patents on different technology to create cultured meat using bioprinting and harvesting stem cells.
But Meat-Tech isn't looking to create its own products for consumers to buy at grocery stores or restaurants, Fried said.
"We are focused on being a B2B company, and the mission is that we are going to be enabling others to become producers of cultured meats, so we're very much focused on [that]," Fried said. "We don't want to be fighting for shelf space. We don't want to be going all the way with the brand in stores. We don't want to be a consumer brand. Our mission is to get into companies where the production is happening. That means you have to have a global outlook from from day one."
Fried said Meat-Tech has its eyes on the United States as perhaps its initial core market, but the technology is not going to be ready to create products and bring a profit back to the company for several years.
Read the full article here: https://www.fooddive.com/news/meat-tech-3d-expands-cultured-meat-with-printed-tissue-and-acquisition/585183/