27 Jun 2020
Pizza to children's snacks - the fuel for cheese sales in China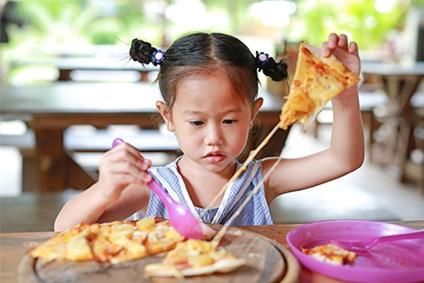 China-based researchers Intelligent Research Group forecast in September that the country's cheese market was set to grow by 10% in value terms in 2019 and they are forecasting continued expansion in the first half of this decade.
In 2025, the organisation predicts China's cheese market will be worth more than CNY12bn (US$1.7bn) in 2025.
According to Intelligent Research Group, Milkana – a brand owned by French cheese giant Savencia Fromage & Dairy – accounts for 23% of the market, followed by Bel Group's La Vache Qui Rit at 8% and Fonterra's Anchor at 6%.
Hotels have been the major market segment (representing more than 60% of sales, according to Intelligent Research Group) for years but cheese sales through the retail channels have jumped amid the Covid-19 pandemic. An item on changing consumption habits during the first quarter of 2020 on the site Tangjiu Kuaixun (a site linked to major Chinese food exhibition Tangjiuhui), reported a 32% increase in cheese consumption, compared to the same period in 2019.
Pizza, already a major driver for cheese consumption at home, has been a factor in that recent spike in sales, with a combination of lots of time indoors and better-equipped kitchens leading more Chinese to bake their own pizzas.
A search with the keyword nailao (cheese) in Weibo, a Chinese social network combining the functions of Twitter and Facebook, results in a long list of foods, and approximately a third of the posts are concerned with preparing food at home using cheese as an ingredient.
Pizza is one of the more common products promoted but a more unusual recipe is one for cheese popsicles, made from milk, sugar, cheese and gelatine. The result is a semi-soft rubbery block with a sweet creamy taste and salty touch from the cheese. The cheese used is processed, which is available in virtually all Chinese supermarkets. About 85% of the cheese consumed in China is still processed, according to Intelligent Research Group.
Adding cheese to a traditional product is getting popular in China, in particular in street food. Visiting Changsha in China's central Hunan province in early January, I saw crowds of young people queuing up for local snacks – skewers of meat, seafood or vegetables – and I was surprised to see vendors also offering skewers including chunks made from cheese and a substance like sticky rice to mask the strong cheesy flavour.
Read the full article on https://www.just-food.com/comment/pizza-to-childrens-snacks-the-fuel-for-cheese-sales-in-china_id143931.aspx