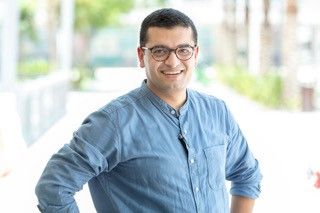 Biography
Chef Ankur Chakraborty has been a promoting regional Indian Food across his restaurants with a focus on high quality ingredients and a major focus for him is driving sustainable business with a strong focus on consistency. Ankur and his partners got together on a common passion for great quality Food concepts and they formed LemonButter in the year 2020. Streetery Food Hall and the Crossing Dubai are two of the assets LemonButter has in the UAE.
At the Crossing, the ideation of the restaurant, the food and the interesting pairings with international grapes and an exciting cocktail program was one of the key focusses. The Crossing Dubai is about minimalism where the food from the larger India finds representation. Its about GI tagged ingredients from the subcontinent, the non commercial recipes from home kitchens and the risks taken on th=e way to execute the concept of The Crossing.
Ankur has 16+ years experience in high-impact leadership roles in the Food & Beverages Industry, both as a Chef and as a business leader. He was GM of Tablez food company, UAE, a subsidiary of the retail conglomerate LuLu Group. He was instrumental in driving profitability through sustainable dining concepts and from 2015 grew the portfolio from 3 brands, 90 team strength to almost 35 restaurants across 8 brands with nearly 800 team strength by 2020. The Tablez portfolio consisted of home grown concepts were ideated and executed along with identifying new franchise concept and bringing them to the region with successful negotiations and agreements with multiple brands. Ankur also designed and setup up a 20,000 square foot HACCP certified central food processing kitchen for Tablez to optimize cost efficiencies and give structural support and birth to a new world of delivery only cloud kitchen concepts.
One of the very interesting part of Ankur's career was leading a large F&B setup for an indoor theme park in Dubai as the Head of Culinary where fresh concepts were created to work with IPs like Marvel Studios, Cartoon network and Lost world. This project had a F&B footprint of over 28 concepts spread across 1.5 million square feet and a processing kitchen of almost 40,000 square feet.
Ankur has worked under Chef Atul Kochhar in UK who is One Michelin star and had conceived the concept for ZAFRAN, for Foodmark (Unit or Landmark group International) in 2010, and delivered multiple restaurants under this brand as its Concept Chef and Business Manager.
With a degree in Hotel and Hospitality Management, and as a young Executive Chef, he has also successfully set up and managed Indigo, an Indian restaurant at Beach Rotana Hotel, Abu Dhabi in 2006.
Spearheading high volume and high quality culinary operations has provided him with a rich working experience across the F&B in Hotels, institutional catering and multi-unit restaurant operations.