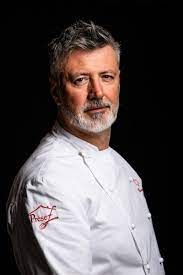 Gianni Tarabini
Chef
La Presef Restaurant
1 Michelin Star + Green Star
About Chef
Perhaps these three words are enough to identify Gianni Tarabini, born in Valtellina in 1967, who's never limited himself, but wanted to enhance local good products by looking around.
Tarabini immediately acquires experience: as a kid, his grandmother sends him to Ristorante Golf Club in Monza, where he learns the art of cooking from chef Erminio Curti, a friend of Gualtiero Marchesi. Then a long experience at restaurant Maloja in Nuova Olonio, Sondrio, and then at Castello di Casiglio, in Erba.
The turning point in 2007: he was asked to guide the restaurant of La Fiorida in Mantello, in Valtellina. For Tarabini this is a stimulus that leads him also to Modena, where he visits Massimo Bottura at Osteria Francescana and continues to grow. This is made official by the Michelin star given to La Présef, the restaurant of La Fiorida in 2013.
In the restaurant La Preséf every day Gianni Tarabini challenges himself: to be sure that in each course you can taste vegetable gardens, hay, milk, tradition and his revisitation. A test that he faces with the complicity of authentic zero-mile raw material, produced very close to his kitchen, in the same farm where the restaurant is located, that in 2021 has led to the Michelin Green Star .
Member of Euro-Toques Italy and Ambasciatori del Gusto, he was able to represent Valtellina Valley with his cooking all around the world: Prague, Beijing, Tiblisi, Taiwan, Dubai, Lebanon an Cyprus.
In 2022/2023 he's had the privilege to be the Mentor of one of the finalists of S. Pellegrino Young Chef Academy Competition.