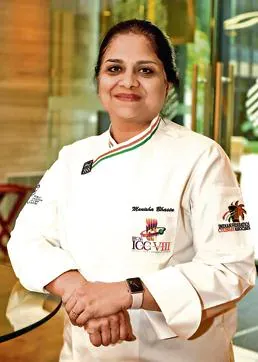 Manisha Bhasin
Corporate Executive Chef
ITC Hotel Group
Biography
Chef Manisha Bhasin is a champion of sustainability and Dehlavi cuisine, which brings together dishes from the multiple communities of the capital city.
Back in 1996, when terms like 'seasonal produce', 'farm-to-table' and 'eating local' were unheard of, chef Manisha Bhasin was in charge of the kitchen at Westview by ITC Maurya in Delhi. It didn't have a printed menu but a blackboard one — a trend that hipster eateries in the West started around that time but was completely new to India — and the dishes were planned depending on the produce available.
Her work was recognised last week when Culinary Culture awarded and recognised her as a notable chef who had pioneered sustainability in the kitchen as part of its 'Food Superstars: India's Top 30 Chefs' awards. In a career spanning more than 30 years, Bhasin focussed on energy efficiency, green practices and use of local ingredients even when Peruvian quinoa, Italian truffle cheese and Norwegian salmon were most sought after at five stars.
In an interview with Lounge, Bhasin talks about sustainability, Dehlavi cuisine and fondly recalls her grandmother's cooking.