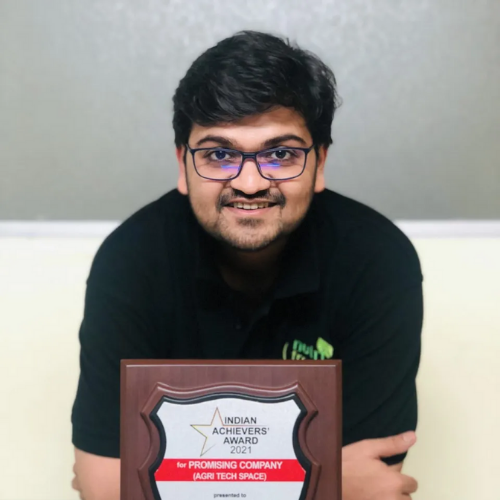 Biography
Mr. Sanket Jayesh Mehta, a B. Tech (EXTC) & MBA (Finance) by education, had started his career with Central Bank of India, Pune Mid Corporate Branch, Scale 2 Manager (A Government Job). He had been working there for 18 Months and along this time, he came across various Credit Proposals in the field of Agriculture. During his visits, he realized that there is a huge gap between Demand and Supply of Agri Products between Growers and Consumers. He saw an opportunity and therefore, he thought of leaving his fat paying Salary & started his Agriculture Journey.
He started with a small Sugarcane Project of 4 Acres at Daund, Pune in 2014. After 1 1/2 Years of rigorous efforts, he achieved a fantastic result of 100 Tonnes / Acres whereas Industry Standard is 70 Tonnes / Acres of Production. This gave a sense of confidence and he ventured into Floriculture with 4 Acres of Roses, Jerbera and Orchids in 2016. The Project was a ready success with entire Supply Chain Management, Sales, Marketing and Operations being set up immediately.
With the success from Floriculture, He turned his attention towards Organic Farming in 2018. After tremendous research, Mr. Mehta leased out 300 Acres of Agriculture Land from Government of Maharashtra at Phaltan, Satara wherein he is growing various Organic Fruits & Vegetables. He is majorly performing Contract Agriculture at this field and the entire farm is IOT based with Automated Drip Irrigation with 5 Crores Liter Artificial Pond at Site. Various Organic Fruits & Vegetables are marketed and sold to APMC Markets in Mumbai & Pune.
After 2 years of successful implementation of Open Field Cultivation, He ventured into Hydroponic Farming. Soilless Culture is what amazed him due to Controlled Atmosphere Growing, RO Water and Round the year growing. He set up 10 Acres of Hydroponic Farm which is one of the biggest Hydroponic Farm In India called as "Nutrifresh Farms". Nutrifresh is currently associated with Swiggy Instamart, McDonalds, Big Basket, Supr Daily, Grofers etc for selling. It grows and markets 42 different SKUs in one farm. He is planning to expand itself in the field of Hydroponic Only.