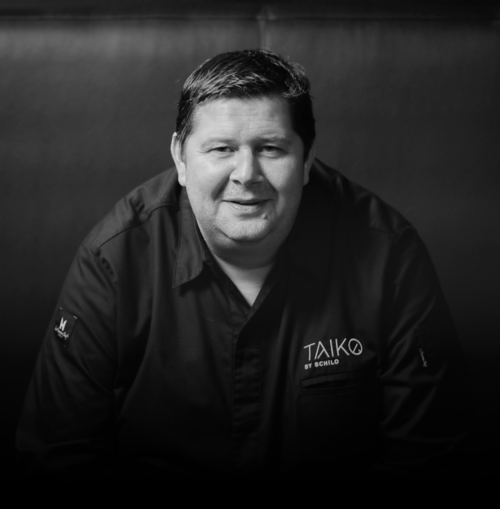 Schilo van Coevorden
Executive Chef
Taiko Dubai
Biography
Schilo attended the Culinary School in Rotterdam and started his apprenticeship in a classic Rotterdam restaurant called La Villette where he worked for one year after which he left for Belgium to work for Roger Souverijns in Scholteshof Restaurant (two Michelin stars). This is where he learned all about 'creativity'. Following this he went back to Rotterdam and joined the Parkheuvel, a two Michelin star restaurant. He further developed his career in a three star restaurant in Düsseldorf called 'Im Schiffchen' by a French chef Jean Claud Bocuiel.
1992; Schilo left for London to become the Head Chef of the Lowndes Hotel, a small boutique Hyatt hotel in the middle of Knightsbridge. After three years he was transferred by Hyatt to Dubai (United Arab Emirates) to open their first new style Cutting Edge Restaurant – Focaccia; a 120 seat Mediterranean restaurant. During his time with Hyatt International he was trained in finding the right balance between style and quality and affordability and productivity.
In 1996 he came in contact with H.E. Sheikh Mana bin Khalifa Al Maktoum (a leading Dubai business man) who asked him to be part of his team to open and operate the pyramids complex at Wafi city. Schilo's main focus was the flagship restaurant Sphinx, which he opened and operated for two years. After this experience, he travelled extensively throughout Asia and worked in Japan for the 'Hyatt Regency Osaka' and in the 'China Club' by Sir David Tang in HongKong.