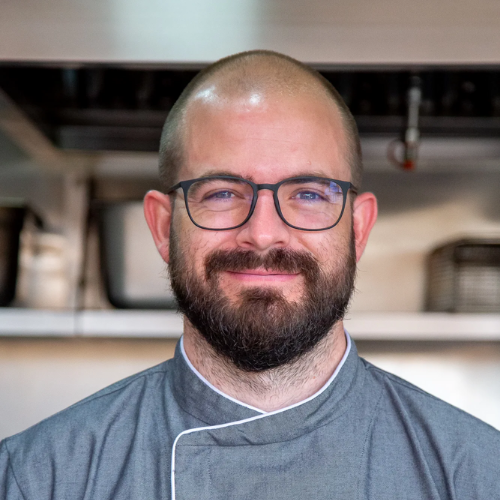 Shane Born
Head Chef Retail, Australia Pavilion
,
Expo 2020 Dubai
Biography
I am a proud South African who calls Dubai home and has been fortunate enough to live in some of the most fascinating places around the world. I consider myself incredibly lucky to have been exposed to so many different cultures and culinary delights.
As I think it is with many chefs, I developed my love of food and cooking from my mother. My mom is a chef herself, so we always had incredible food at home and she always encouraged my brother & I to participate in the kitchen. I was born in Botswana and we then lived in South Africa, the UAE, Beijing, Thailand, Vietnam and I went to boarding school in the USA & Uni in Australia. We have since established our home as Dubai – the ultimate culinary melting pot.
It is safe to say that learning a craft from your mother ignites a passion and love that is hard to replicate. Through my love of food and the encouragement from my family, I started cooking at home from an early age. This eventually lead the way for me to get my first job as a Sous Chef at a boutique catering company in Dubai called Gustronomy, where I truly decided what I wanted to do with the rest of my life.
I spent a considerable amount of time in Thailand and I think the Thai's have refined the art of a perfectly balanced dish. They have established four corner stones of cooking by balancing the four major flavour profiles: Sweet, Sour, Salty, and spicy. If you can find harmony between all four flavour profiles a dish will always be balanced.
I started my journey in my mother's kitchen and couldn't have asked for a better foundation. This led me to my first job as a Sous Chef for Gustronomy headed by Ghassan 'Gus' Farra. After a few years with Gus, my mom & I decided to start our own catering company & 'entertainment-based cooking school' called Born's Kitchen, a brand I still hold dear to my heart. While heading up Born's Kitchen, my mentor Shirley Guy invited me to spend some time at her prestigious guest house in Franschhoek and run a unique pop-up restaurant concept called The Next Step. This was an eye-opening experience which I believe set me up for the next step of my career – Exec Chef for OZNL, heading up Bidi Bondi. I am currently the Head Chef of the Australian Pavilions retail at Expo 2020 working for JA Resorts and Hotels.