29 Nov 2022
These 3-Michelin-starred plates were invented by AI. The food doesn't even exist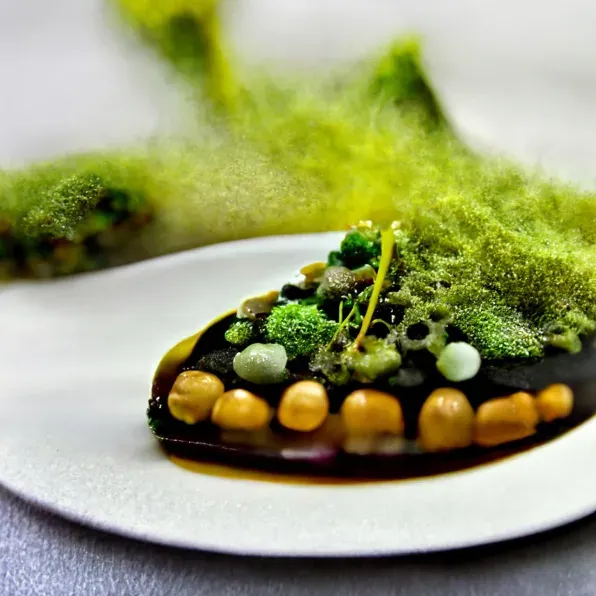 Moritz Stefaner has long been obsessed with food. As a designer, he has even used meals to visualize data about everything from ethnic diversity to scientific funding. So when he encountered an AI that generates realistic pictures from words, he went hog wild
Stefaner typed words like Michelin star chef, deconstructed, and amuse-gueule into the generator, hoping to evoke the intricate plating of fine dining establishments like Eleven Madison Park or Alinea. And, suffice to say, his plan worked. The images he created are completely convincing plates that you could imagine being served at any 3-Michelin-starred restaurant. That is, until you look a bit closer and you realize that the individual components on the dish often don't even exist in real life.
Squinting, I see the bones of a soft-boiled egg, seaweed, microgreens, sauces, and gels. In one frame, I swear I see the same candied moss I actually ate at the Chicago fine dining establishment Elizabeth. In another, I see a chocolate dessert sitting on a mound of coffee grounds—a stone's throw from a dish I ate at Dominique Ansel Kitchen. But for the most part, it's superbly convincing fiction—and what happens when an AI's style vastly outpaces its substance.
"The most surprising thing to me was how well the system deals with really poetic descriptions," writes Stefaner via email. "It goes way beyond just capturing objects in certain styles, towards capturing a whole vibe."
The AI was built by Midjourney, a self-ascribed "research lab" focused on "expanding the imaginative powers of the human species." Much like GLIDE, Disco Diffusion, and Dall-E, Midjourney's AI model generates images from words. But Midjourney makes the process particularly simple. You don't have to understand code or set up anything special to use this AI. Instead, it is hosted on a private Discord, so creating an image is literally as easy as typing it.
"The input to these networks are short texts called prompts. The art of the prompt is really becoming a key skill in interacting with these models. Similar to learning how to nudge a search engine to surface the right results, the 'prompt artist' learns to use the right combination of words to achieve the desired effects," Stefaner says. "For instance, one can add 'drawn by Picasso' or 'in the style of Keith Haring' to evoke style modifiers that mimic an artist's style."