29 Jun 2021
5 top food trends to follow in 2021: from halwa to home cooking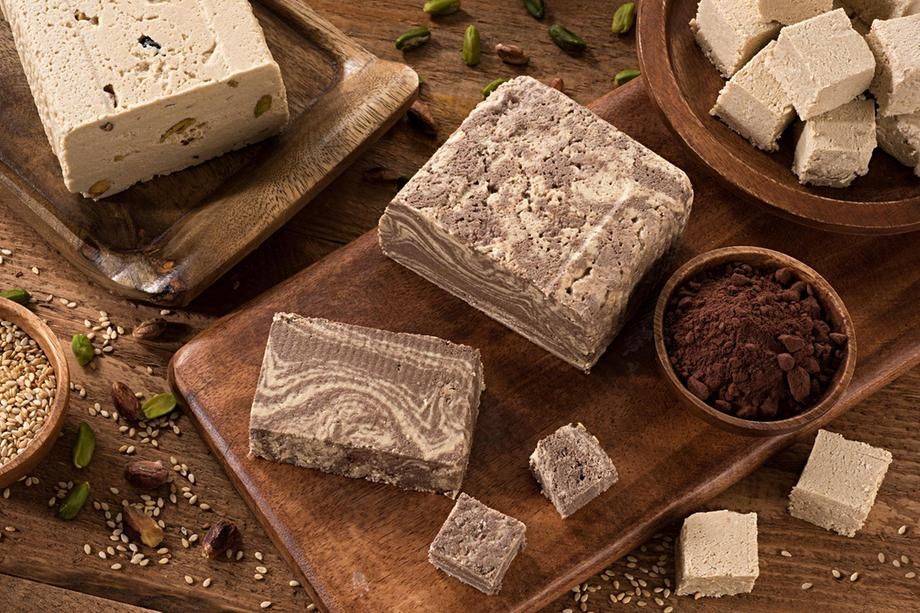 From on-trend ingredients and hot beverages to restaurant experiences and ways of eating, here are our predictions for food fads to look out for in 2021.
The dish: halwa goes global
This rich, fudge-like confection, which in its simplest form is made from ground sesame seeds and sugar, has been a staple in the Middle Eastern kitchen for centuries. In 2021, though, we're expecting halwa to trend on an international level, much like tahini and black sesame before it.
Given its delicious taste (sweet, nutty, creamy), unique texture (smooth and crumbly all at once), customisable nature (it matches well with all manner of flavours, from citrus to dark chocolate, coffee to caramel) and its aesthetically pleasing looks (read Instagram-friendly), halwa is certainly worthy of the attention. Add to this the fact that it is naturally vegan and boasts health benefits beyond the average sweet snack, thanks to sesame seeds being full of iron, and you've got yourself a product that ticks a whole lot of on-trend boxes.
We're predicting that not only will gourmet halwa become a thing, but also that we'll see restaurants using it as an ingredient in dishes such as ice cream, coffees and desserts. If you fancy jumping on the bandwagon before it has really started rolling, swap your morning peanut or almond butter on toast (sourdough, naturally) for halwa butter, add a drizzle of honey and a sprinkling of sea salt, and thank us later.
The trends: home cooking and high-end dining
In 2020, the majority of us cooked at home more than ever before. For many, it was only so long before we realised that repertoires may not have been as extensive as once thought and that the dishes that served us well midweek (here's looking at you, pesto pasta) didn't quite deliver the goods when it came to special occasions.
The UAE food industry showed tenacity by adapting quickly with restaurants extending their offering to takeout and delivery, as well as meal kits and virtual cook-a-long classes. Many food businesses also responded well to the situation with the likes of e-commerce site and gourmet grocer Maison Duffour successfully launching themed boxes that enabled customers to emulate the restaurant experience at home, notably The French Breakfast and The Apero.
Whether due to a newfound passion for cooking, a slight apprehension about eating out or increased caution over budgets, this interest in elevating at-home dining shows no sign of abating. Instead, the trend looks set to go to the next level in 2021 as restaurants and businesses strive to maintain customer loyalty and remain front of mind.
We say look out for bespoke, highly curated at-home restaurant meal kits that include Spotify playlists, cutlery and crockery, tips for plating up dishes like a professional, as well as tasting menus with paired drinks, all delivered to your door. Abela, Beet Box, Naksha Collections and Sprout are some local options.
Among this, a commitment to weeknight home cooking will continue, with people searching for ways to keep things not just interesting, but convenient and waste-friendly, too. Philippe Peguilhan, country manager of Carrefour UAE at Majid Al Futtaim Retail, says that the supermarket recently launched its Cookit Yourself recipe boxes, which provide all the pre-portioned ingredients needed to make a dish, along with the accompanying step-by-step recipe, with exactly this in mind.
Peguilhan also expects baking to continue to be popular, although perhaps not on quite the same level as 2020 when Carrefour UAE saw the sale of baking ingredients increase by 189 per cent compared to the same period in 2019.
Somewhat paradoxically, while over the last five years or so there has been a general shift away from fine dining restaurants and formal menus in favour of more casual concepts, we're anticipating that a renewed fondness for upscale eating will emerge in 2021.
The reason? Well, in a year when people are likely to eat out less than before, they're going to want more from the experience when they do so. As well as placing greater onus on these occasions, customers will look to them to provide a sense of the frivolity, escapism and indulgence that 2020 so lacked.
Industry expert Naim Maadad, chief executive and founder of Gates Hospitality, adds: "Innovative, creative menus will be in increased demand this year. It is time for venues and chefs to put their creative hats back on and go back to the drawing board to create menus that are out of the ordinary and not cookie-cutter solutions."
Expect to see bespoke dishes tailored to specific dietary requirements, chefs really flexing their muscles with one-of-a-kind menus, inspired serving techniques and dishes made from unusual or difficult-to-source ingredients that aren't available to the mass market (ie, can't be cooked at home).