16 Jul 2023
Amazons palm-scanning payment system is coming to all whole foods stores by the end of the year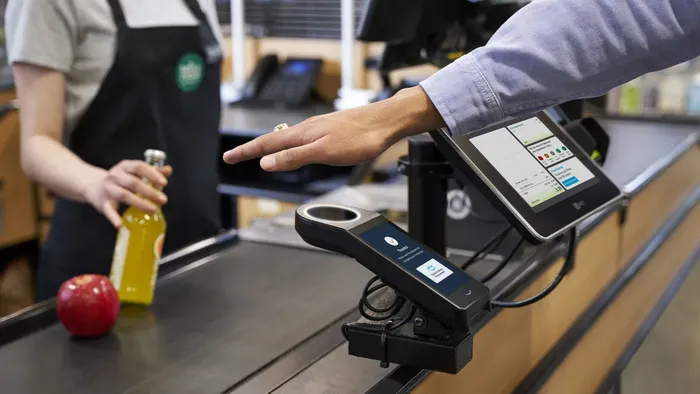 Amazon has
announced
that its palm-scanning payment technology, called Amazon One, will roll out to all 500-plus Whole Foods locations by the end of 2023. Amazon
first introduced
the contactless Amazon One payment system in 2020, but its expansion by the end of 2023 will be its largest to date.
Amazon One works by the user scanning their palm above a reader—in other words, it's another form of contactless biometric authentication, like Apple's Face ID. But instead of reading your face, Amazon One reads the lines and ridges of your palm and the unique vein patterns beneath it. This reading of deeper subcutaneous features means that someone can't just photograph your palm and start loading up on costly cheeses at Whole Foods at your expense.
Your palm signature is associated with your Amazon Prime account or just a credit card, and it means you don't even need to bring your phone or wallet with you to shop and pay for goods. Currently, Amazon One is available at 200 Whole Foods in the United States as well as 200 locations at other retail outlets. Amazon's rollout will bring the total Amazon One payment locations to over 700 by year's end. Other locations where you can currently use Amazon One include Coors Field in Colorado and
select Panera Bread restaurants
.
To date, Amazon One has reached "more than 3 million uses," Amazon says, which presumably means "transactions." While three million sounds like a lot, that's only about one million Amazon One transactions per year since its debut. To put that into further context, CardRates
says
there were 39.6 billion credit card transactions in the United States in 2019 alone.
Still, new technologies take time to gain widespread adoption, and with the expansion of Amazon One to all Whole Foods stores, Amazon clearly thinks the palm-scanning payment system has greater potential.
Read More