30 Dec 2022
How Common Farms Founder Jessica Naomi Fong is transforming Hong Kong's food system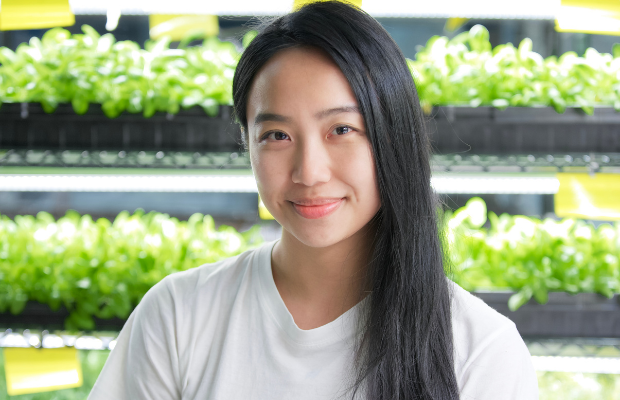 Tell us a little about your journey and how you got involved in the food industry.
I was working in the F&B industry before I started Common Farms. I saw the problems coming from food importations: huge amounts of food going bad, massive carbon footprint, price fluctuation and quality. Food is always the best when it's freshly harvested. In a subtropical place like Hong Kong, the temperature and humidity change so frequently it is difficult to grow most crops for a large percentage of the year, and land space is extremely limited and expensive. The only option for producing year-round, and at scale is to utilise idle spaces like older industrial buildings. To have a chance to transform our city's food system, we had to go indoors in under-utilised spaces, and therefore vertical farming made logical sense in our context
What is Common Farms? And how is it transforming Hong Kong's food system?
We are a soil-based indoor vertical farm that grows speciality greens such as herbs, edible flowers, and baby greens that would otherwise be flown in by air with short shelf lives and high wastage. We are a farm that reduces all the unnecessary steps and delivers straight from farm to customers, offering the best quality of nutrition, freshness and flavour
Tell us a little about the farming techniques and technology you are using. What makes your produce stand out?
We grow using soil, as opposed to hydroponically or aeroponically as is common in indoor vertical farming. From our experience and experimentation with all the different methods, while it's a more expensive method, soil-based is the best for our crop diversity, flavours texture, shelf life for our customers, and most importantly nutritional content. At each step of the production from sourcing raw materials to getting the packaged produce to our customers at the precise time they want them, there are a lot of variables, anomalies, and intricacies that we are managing, aligning and orchestrating. We've built our own system that allows us to adapt to all the changes in the market in real-time.
How have you been able to get your produce to restaurants? What challenges have you faced? How have you overcome these challenges?
When I first started out, I went door to door dropping off samples, trying to get meetings with the chefs and asking for intros into the more adventurous chefs I'd read about. Every step of the way was a challenge to figure out: growing system, produce mix, size, price, packaging, logistics and warehouse, hiring, fundraising, selling, and sourcing. The way I overcame challenges I find is by continuously showing up and putting in the work, especially when it really gets tough. I won't stop until I get the job done. You either make it work or you fail, and so far, things are working!
Where do you see the future of farming heading?
Historically Earth's climate is always changing and humanity has always had to adapt. The modern times we live in are no different, or maybe even harder to gauge constantly changing temperatures and weather conditions. Indoor farms will serve very different needs and solve very different problems based on social, geographic and cultural issues and demands. Food waste, food safety, food security, water conservation, land and soil use and local availability of non-local produce can all be addressed with indoor farming. Another big value of indoor farms is the consistency of production quality and quantity and predictability in growing. As long as the product, yield, production cost and sales compare favourably, there is a benefit to be had.
As one of the 50 young change-makers named by the World's 50 Best Restaurants, how does it feel?
I'm humbled and grateful to represent Hong Kong and I'm following the journey of my counterparts with great interest.
What advice do you have for aspiring young women going into this?
Impatient with action, patient with outcome! As a female, we have the tendency to want to get things to perfection before launching, and once we do something we want immediate results. From my experience, the best outcomes come from taking action immediately and not chasing the outcomes. Just focus on putting in the work. Be careful whose advice and opinions you listen to. Everyone has them and gives them, even when not asked for. It is noise and distraction and we need to be able to filter and compartmentalise accordingly. Compartmentalise emotions, don't let emotions make important decisions for you. As women, we are emotional beings; this part of us is a strength and knowing when to play it up is important. In the journey of entrepreneurship, you will need to make decisions rationally and unemotionally as often as not. Get comfortable with the uncomfortable. You will be presented with a lot of important, hard, scary work (and life) decisions you may not want or like, but these things can be tackled head on and it helps to build the discipline to consistently push through and onwards
In what ways can your vertical farming methods be adopted in other countries globally?
It depends on what's the critical problem to be solved and the resources to leverage a specific country. Space and fertile land, Food safety and security, Food importation cost, Food Waste, Food Diversity, Food quality, flavour and nutrition. For the gulf region, fresh food importation is high, which means there's a lot of wastage in the food system, and the population is growing. Similar to Hong Kong is a climate that doesn't allow a lot of fresh greens to grow. With vertical farming, you can leverage on affordable (renewable) electricity to produce at scale. Since we grow with a soil base, you can actually take the compost and utilise it in outdoor farms for orchards or any production that requires more space and time and give further benefit to the wider environment, which we lead by example by doing in Hong Kong.
What's next for Common Farms?
In 2022 we experienced high growth as more people demanded fresh, clean produce as a result of health awareness around covid issues. We moved into our new 9,000 sq. ft. farm, and established a pop-up farm with Nespresso in the premier shopping mall in Hong Kong (K11 Musea). My team and I are focused on scaling up our production to meet our current customers' demands and refining our operation systems. We have some exciting projects coming up in the new year and we look forward to sharing them soon.