12 Sep 2023
Day in the Life: Eco farmer grows edible flowers for Dubai's Michelin-starred restaurants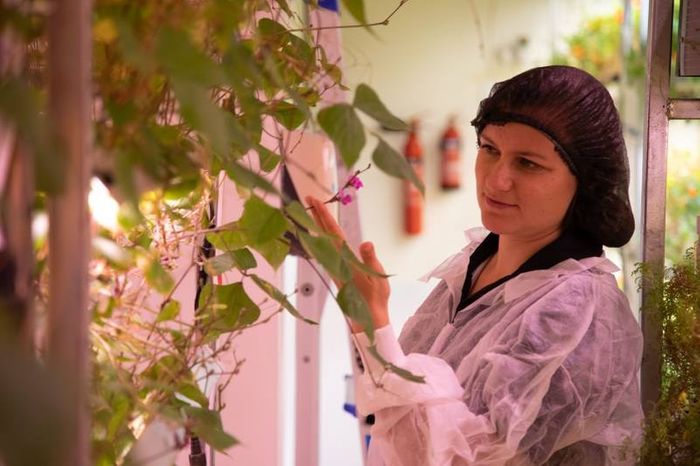 "A Day in the Life" allows you to step into the shoes of a UAE resident to experience a typical 24 hours in their work and home life
Mary Anne de Haan's flowers look good enough to eat – and if you're a fan of Michelin-starred restaurants, you've probably had them.
Ms de Haan, 35, left her corporate job in 2018 to grow flowers in the Dubai desert and now supplies dozens of the UAE's top restaurants with up to 180,000 edible blooms every month.
The mother of one's sustainably grown farm-to-fork produce can be sampled at Moonrise, Ossiano, Tresind Studio, Hakkasan, Jaleo, Boca and Dinner by Heston Blumenthal, among others.
Here, The National joins Ms de Haan on a typical day on the farm, juggling flower picking and hydroponics with thousands of predatory wasps.
6am: Blowing the cobwebs away
Ms de Haan is woken every day by her son Leo for breakfast, after which she takes her two rescue dogs and her horse for a brisk walk through Al Waha Village.
"I take my desert dogs Tokyo and Alma and my horse Peanut for a stroll every morning," she says. "I enjoy being surrounded by nature, which was the main reason I became a farmer.
"When I started back in 2018, I had absolutely no experience but I learnt everything as I went along.
"I gave up my job as an account manager at a business marketing company and threw caution to the wind."
Ms de Haan was inspired to grow fresh food shortly after moving to Dubai from the Netherlands in 2014 when she noticed that a lot of produce was imported.
She taught herself sustainable growing techniques including hydroponics, which involves growing plants without soil using solutions that require up to 10 times less water than traditional methods.
"I had no agricultural experience at all but I decided to go for it," says Ms de Haan.
"Today we have 13 staff at Mary Anne's Fresh Produce and on a good month we sell about 6,000 boxes containing up to 30 flowers each to the city's restaurants."