15 May 2023
Elena Reygadas: becoming The World's Best Female Chef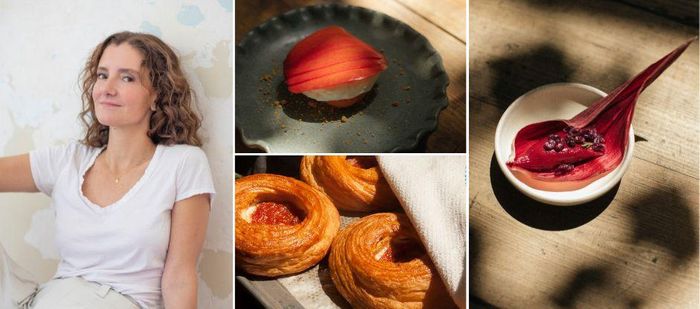 For Mexican chef Elena Reygadas, the journey to gastronomic success involved a lot of soul searching, hard lessons and the tireless quest for balance, both in her cooking and personal life. As she is named The World's Best Female Chef 2023, the chef-owner of Rosetta in Mexico City reflects on her life story and reveals why she wants to share the spotlight with as many women as possible
It took Elena Reygadas a long time to become comfortable with being the centre of attention. The soft-spoken, curly-haired 46-year-old mother of two clearly does not match the idea of the hyper-intense, abrasive, obsessive chef that modern culture has developed a fascination for, from The Bear to Boiling Point and The Menu. Yet, while being at the opposite end of the spectrum, Reygadas remains a force to be reckoned with.
One of the key figures in the contemporary Mexican food scene, she divides her time between the kitchens of her five restaurants in Mexico City, ranging from a refined spot that people travel from all over the world to visit (Rosetta) to several casual concepts much loved by local diners (Lardo, Café Nin and Bella Aurora), as well as a bakery that has achieved iconic status of its own (La Panadería de Rosetta). But for most of her life, Reygadas struggled to step into her role as a leader.
"I didn't realise – or maybe I didn't want to see it, or I was afraid to understand it – that there are many young girls out there who see me as a reference," begins the chef. "At some point, I had to embrace the person and the figure that I have become, because I don't really have a 'protagonist personality', but I felt that it was a responsibility. If I didn't do it, it would have been selfish of me."
The topic is one of relevance because Reygadas is now in possession of one of the culinary world's top accolades: the title of The World's Best Female Chef, previously held by such gastronomic powers as Dominique Crenn and Ana Roš, and voted by more than 1,000 experts across the world. In June, she will stand on stage at the impressive City of Arts and Sciences complex in Valencia, Spain, to receive her trophy in front of other recognisable figures in the global hospitality sector and the industry's most influential media – and she is determined to use the platform she has been given for the benefit of women at all levels of the food production chain.
This isn't Reygadas' first rodeo: in 2014, she was already voted as Latin America's Best Female Chef. But since that time, she reflects, a lot has changed. "As the years have gone by, I have developed more maturity, both as a person and as a cook," she shares. "I understand now that restaurants have a lot of power. I want to be very aware of what I cook and who I buy from, I want everything to be delicious, I want my place to be very nice and people to feel welcome – but what else can I do with the influential personality I have become?"
The power that the Mexican chef is referring to takes the shape of cultural authority: the ability to influence the conversations that are taking place globally not only around gastronomy, but also around society, the environment and culture. Restaurants, she says, should not only be places of pleasure, but also places where ideas and deeper reflections are shared.