23 Mar 2023
Emulsifiers, the "unsung heroes" of the food industry, providing stability in unstable times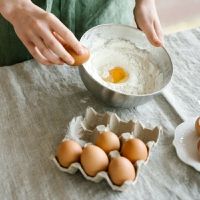 Often overlooked despite being one of the most widely used ingredients in the industry, emulsifiers quietly work behind the scenes to give chocolate its sheen, bread a longer lifespan and ice cream its smoothness. As the primary means of combining and mixing ingredients that otherwise remain separate, such as oil and water, emulsifiers play a vital role in producing a massive variety of F&B products.
FoodIngredientsFirst talks to key players in the emulsifiers space about how rising consumer demand for natural, plant-based emulsifiers with clean labels is driving innovation.
"Emulsifiers are often viewed as the unsung heroes of the food processing industry," says Philipp Sommer, business director at Lecico.
"They are surface active ingredients which allow a stable emulsion formation, assist in the texturization of a product, can extend shelf life, and play a significant role in shrinkage resistance, preventing syneresis and sedimentation," he explains.
Sommer notes that benefits such as these, as provided by emulsifiers, are in growing demand.
"Since the COVID-19 pandemic, we have seen an increase in informed consumers who require enhanced nutrition and clean label ingredients. This consumer is better informed and requires products that offer detailed labeling."
"As consumer demand for healthier products continues to grow, so do the food industry's requirements for natural emulsifiers. According to Innova Market Insights, 26.5% of all global food and beverage launches recorded by the company in 2020 used one or more clean label claims, whether natural, organic, no additives/preservatives or non-GMO," he continues.
"In the US, this jumped to 37% of new launches and in 2020, 19.4% of products making a non-GMO claim."
Sustainability and clean label demands

The COVID-19 pandemic, the cost-of-living crisis and ongoing climate change fears have created a rising demand for cheaper, longer-lasting foods.
Consumers want good value for their money, but they also want clean label claims and sustainability concerns to be addressed, along with health and immunity benefits. This is a difficult balance to strike.
"The sustainability narrative is on everyone's radar, and the emphasis on naturally and ethically-sourced products will continue," notes Sommer.
Elena Revenko, product line manager lecithin at Cargill, is tracking the same trend.
"It is clear that consumers are paying attention to ingredients, with 55% of EU consumers saying they have become more attentive to the ingredients listed on food and drink over the last 12 months, and 65% of EU consumers saying they're extremely or very likely to check the ingredient list," she says.
The emulsifier space is investigating means of adapting to these varied consumer behaviors.
"Bakery manufacturers exploring ways to deliver label-friendly formulations need to balance a clean label ambition with their aim of enhancing shelf life, with consumers also easily throwing out leftover bread at the early onset of staling," she continues.


"The emulsifiers DATEM (diacetyl tartaric acid ester of mono- and diglycerides) and mono- and diglycerides of fatty acids (DMG) are typically used to improve the volume, processability and shelf life of bread. However, these ingredients are not perceived as label-friendly by consumers."
Solving the shelf life issue while maintaining clean labels is difficult, but one emulsifier, in particular, may be the solution.
"The industry is already far advanced in bringing solutions for natural freshness in white bread. However, replacing DATEM and DMG in wholemeal bread is a bigger challenge. This is why viable label-friendly alternatives are in demand, including lecithin."
Lecithin benefits

Lecithin is a label-friendly emulsifier sourced from soy, sunflower or canola. It's often used in plant-based dairy alternatives, where it emulsifies and contributes to the perception of a creamier mouthfeel.
"The beauty of lecithin lies in its functional characteristics as an emulsifier," says Sommer.
"Regarding the development of dairy-free products, lecithin can help create a smooth and creamy consistency."
Sommer continues, noting that "For formulators wishing to develop ice cream, natural emulsifiers like lecithin can increase the resistance to rapid meltdown during consumption, further preventing defects like shrinkage and recrystallization during storage and distribution. This is because lecithin, with its hydrophilic and lipophilic properties, can cling in the interface between fat, protein and water."
Lecithin is rich in phosphatidylcholine, which is the natural precursor of choline," continues Sommer.
"Choline was recognized as an important nutrient by the European Food Safety Authority (EFSA) in 2011. When used as an ingredient, it can contribute to normal homocysteine and lipid metabolism and the maintenance of normal liver function."
Lecithin is also helpful for the formation of sports drinks, as "Powder wettability and dispersibility can also be significantly improved by lecithination. When powder particles are enveloped by lecithin, they can take on its surface-active properties."
However, the invasion of Ukraine has impacted the development of certain strains of lecithin.
"While it is true that we have seen supply issues with organic lecithin of different origin and sunflower lecithin coming in from Ukraine, we have managed to secure alternative sources with our parent company, the Avril Group, and we continue to offer high-quality organic lecithin, conventional lecithin and phospholipids," notes Sommer.
"To offset supply chain challenges, it is critical to collaborate with raw material suppliers to offer a fully integrated and transparent supply chain."