22 Nov 2022
Food Tech Company Me& Has Developed the First Fortified Human Breast Milk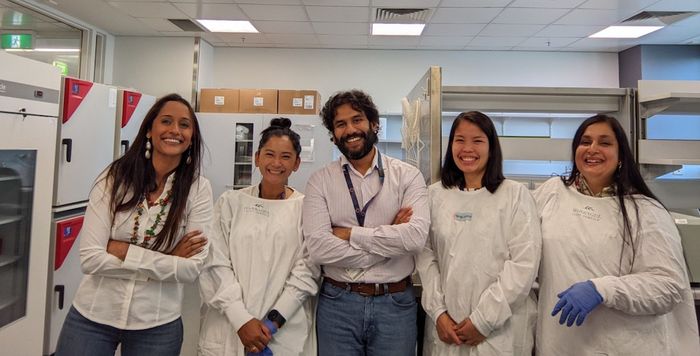 Australia's first cell-based milk startup, Me&, says it is developing cell-based breast milk just like a human mother would.
Me&'s cellular and molecular technology captures the inbuilt program in breast tissue cells allowing it to control the cell-based milk development and modify its composition to offer superior nutrition. The company recently closed an oversubscribed $2.5 million seed round led by Horizons Ventures and CSIRO Fund Main Sequence, with Better Bite Ventures participating as well.
It's the latest company to bring novel tech to the infant formula category. Israel-based Wilk and U.S.-based Biomilq are using cell tech to develop human breast milk, and U.S.-based Helaina is using precision fermentation to 'brew' breast milk in microbes.
Breast milk from cells
"I've had two babies born prematurely and spent their first weeks of life in the NICU," Esha Saxena, Me& co-founder. She developed the product alongside Dr. Luis Malaver. Combined, they bring together more than 30 years of experience in product development, bioengineering, and cell biology.
Saxena saw the dire need for change when her children were in the NICU, but her motivation also comes from decades of wanting to change the planet for the better. "I was born in India and at a very young age, about 3 [years old], I made a deliberate choice to stop eating meat, almost overnight," she said.
"It was a big surprise to my family, none of whom were vegetarian at the time, there was nothing I was exposed to that introduced me to the idea, and my mum took me to many pediatricians to have me tested for intolerances, food aversions, all of whom concluded it came down to nothing but, a choice I had made a lot earlier than expected."
Saxena says there is a global lack of supply and a critical need for human milk "to ensure adequate development of preterm and newborn babies," she said. "My inspiration for this business is to fill this much-needed gap, and reduce the reliance on cows' milk that we know is not good for babies, the environment or the animals."
Bill Bartee, General Partner at Main Sequence says the product is an example of science changing the world for the better.
"We are in the midst of an exciting time in history," he said. "Advances in science have provided us with the tools to deliver bio-based engineering solutions and build new ways of doing things. The technology has come together to enable us to build biological factories to make new things — and do it very efficiently. The Me& team have harnessed this expertise and paired it with a market need to create a world-first innovation—cell-based fortified human milk."
Replicating the infant nutrition response of breast milk
The company is based at the Hudson Institute of Medical Research in Melbourne. The institute is a world leader in medical research on infant and child health and development.
"Being based at the Hudson allows us to be part of the translational research ecosystem contributing to critical initiatives in infant health," Malaver says. "We are fortunate to be next door to world-leading neonatologists and an extensive NICU hospital to stay connected with our customers and tiniest little consumers."