18 Feb 2018
Global Industry Outlook To Be Unveiled Today At Gulfood 2018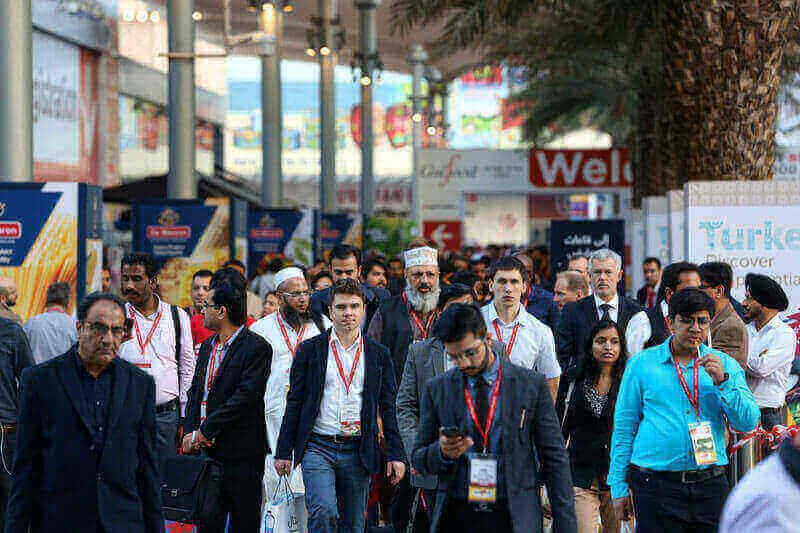 The Middle East and Africa (MEA) will deliver the strongest regional growth for the international food and beverage (f&b) industry, with Asia Pacific also holding 'enticing' prospects, according to the newly-released Gulfood Global Industry Outlook Report.
The in-depth report follows a Euromonitor International market study based on official published sources and trade surveys with local and global manufacturers, distributors, trade associations and government entities. The report cites high birth rates, rapidly expanding cities and growing employment as key factors behind the high potential in MEA and Asia Pacific, where combined consumer spend in the food beverage sector is forecast to rise to 60% of global expenditure by 2030, up from 53% today.
"With greater distribution of wealth, growing economic and political stability and rapidly developing infrastructure, consumers have greater access to a wider range of foods and beverages," says the report, which adds that despite lower growth rates, the sheer size of the Asia Pacific population and disposable income growth "also offers an enticing growth market in all categories."
The independent report is commissioned by Dubai World Trade Centre (DWTC) for the 23rd edition of Gulfood 2018, the world's largest annual food and beverage trade event which runs at DWTC. It paints an optimistic yet challenging picture for industry growth, citing a billion extra consumers with growing disposable incomes will enter the market place by 2030 and evolve buying trends across all regions.
"The findings show that with a rapidly growing and highly urbanised population, demand across the globe for processed and packaged food and beverages is set to increase," explained Trixie LohMirmand, Senior Vice President, Exhibitions & Events, DWTC. "Yet while there's more consumers to go around, overall consumer spending is set to drop from 8.5% of GDP to 8.0% by 2030 as products become relatively more affordable and make up a smaller proportion of overall consumer spending."
The report highlights changing consumer patterns across geographies and age demographics. "It is essential reading for companies of all shape and size operating across the entire food and beverage industry eco-system," explained LohMirmand. "Detailing trends, challenges and opportunities, the report identifies an industry entering a massive transformational era with innovation on product, production, packaging and delivery in the vanguard.
"As can be tracked annually at Gulfood, consumers are actively transitioning to healthier, more adventurous foods and beverages while still looking for convenient packaging and product delivery. Internet buying is also changing product delivery not just for home-delivery but also in terms of access to local brands and short order supply."
As the fastest-growing consumer drivers in Sub-Saharan Africa, Asia Pacific and Latin America, the report highlights urban millennials' greater buying power and preferences for convenience products. "Conversely, this group is equally conscious of their health, nutrition and diets so producers have to innovative to meet this balancing demand," said LohMirmand.
With young parents in the Sub-Saharan Africa, Asia Pacific and Latin America increasingly preferring products with nourishment benefits, the ageing populations of the more mature markets of Europe, North America and Australasia are eyeing products which deliver health benefits for their bones, mobility, digestive health and energy levels. These preferences reflect working lives now lasting longer and have spurred growing interest in organic, locally produced, and high-quality fresh or processed products, says the report.
Foodservice consumption continues to rise as the presence of food industry products and services in all retail channels increases. Convenience stores and forecourt retailers are now competing with traditional foodservice outlets, while in less affluent markets street stalls and kiosks offer cheaper alternatives with modern equipment improving the quality and range of products on offer.
In all markets, delivery services - driven by widespread use of mobile apps - is taking an increasing share of foodservice sales with many consumers now opting for rapid home-delivery of high quality food products.
Key Region Trends
The Middle East & Africa: Cold chain services are changing MEA consumer choices as frozen processed halal meat and poultry, cold drinks and flavoured milks increase in popularity. Foodservice is also growing with the entry of many international chains influencing in-home consumption of more traditionally western food choices. Demand for portable bottled water is expanding in major cities particularly in the UAE and Saudi Arabia due to the high number of visitors and pilgrims. While young consumers, particularly in Sub-Saharan Africa, have adopted mobile and internet-based services as the key channel to communicate with brands and delivery services.
Asia Pacific: This region's already large and growing population, combined with an expanding middle class, is heightening potential. Packaged food sales are growing as modern retail expands supported by a developing cold chain infrastructure for fresh, chilled and processed foods. Internet retailing and strong national logistics mean consumers can easily and cheaply buy products not easily accessible in local retailers. Health concerns around obesity are shaping strong and growing interest in natural and traditional ingredients.
Europe, Australasia and North America: In these mature markets media and national campaigns, regulation and unsubstantiated packaging claims are challenging consumers' buying decisions. Increasing label scrutiny underlies most consumer choice as they search for natural, health-supportive ingredients with local sourcing and low processing. Online services are well established, but consumers still like to look, feel and test new products in local retailers. Consideration of the long-term health and environmental impact of shopping behaviour is now strongly engrained.
Latin America: The traditional grocery sector remains significant outside Brazil and Chile despite the rapid adoption of mobile apps for purchasing. Warehouses, discounters and private labels respond quickly to the needs of price-sensitive consumers but, amid persistent economic uncertainty, young or employed consumers are eager to try new products and are willing to pay for this indulgence. Sugar taxes in Mexico and other markets have changed the ingredient profile of many products; manufacturers are tweaking formulations to offer new flavours, hybrid and soy-based drinks in smaller pack sizes in response to growing consumer awareness of health concerns.
"The world over, the underlying shift is that the consumer is now in the driving seat. To keep pace and remain competitive, market knowledge will be key. This gives added impetus to Gulfood, which remains a strategic trade platform, educational window to local, regional and international market trends, innovation test-bed and a network hub for the global sector," explained LohMirmand.
The comprehensive report has been welcomed by major exhibitors at Gulfood such as Choithrams and Masterbaker.
Kirti Meghnani, Group Procurement Manager of Choithrams, said, "As a leading international food and beverage retailer across the Middle East, Africa, North America and Europe with more than 75 years' experience, at Choithrams we consistently assess and evolve our product ranges to ensure we match the needs of our customers. The Gulfood Global Outlook Report 2018 is a great additional resource, full of crucial data and statistics on future trends and emerging preferences that will allow us to refine our offering even further to guarantee a more personalized shopping experience for our existing loyal customers and those coming to Choithrams for the first time."
Similarly, Ronnie Khajotia, Director at Masterbaker said, "Gulfood is an important platform for Masterbaker as the leading bakery ingredient company operating in the GCC. The Industry Outlook Report is a very welcome addition and emphasizes the importance this exhibition has on the global food supply chain and the benefits of exhibiting. The report provides crucial data and interesting information that we can digest and incorporate into the way we operate to serve our clients, and ultimately the end consumer."
The Gulfood Global Industry Outlook Report is launched today and exclusive to Gulfood attendees.
Gulfood Show Attendees: To access your copy, please click here.