02 Aug 2023
Here's What the First Cell-Cultivated Chicken Dish on a US Menu Will Look Like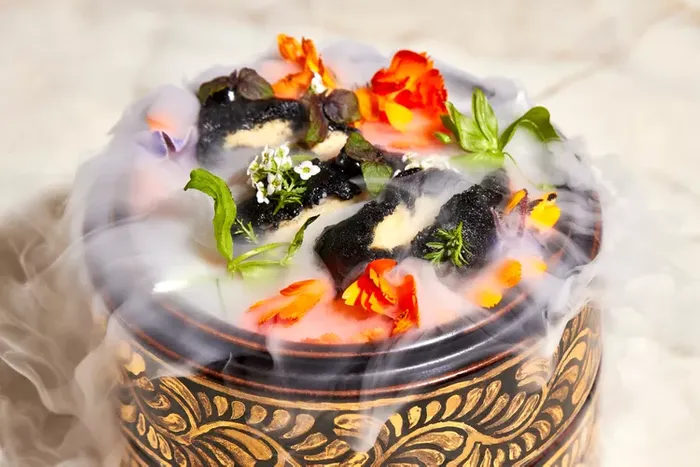 Earlier this week, chef Dominique Crenn received a shipment of chicken at her San Francisco restaurant, Bar Crenn. That sounds like a near-daily occurrence for almost any chef, but this was a noteworthy delivery for a couple of reasons: first, it will be the first poultry that Crenn has served since she decided to make all three of her restaurants meat-free in 2019, and the product Crenn received is also the first-ever order of cell-cultured chicken (sometimes referred to as "cultivated" or "lab-grown") to be sold in the United States.
Crenn has partnered with California startup Upside Foods, and will be the first chef to add its cell-cultured chicken to a restaurant menu. Crenn's chicken delivery is one more milestone in what has been a landmark month for Upside. In mid-June, it received label approval from the U.S. Department of Agriculture (USDA), and just last week, the agency gave Upside a Grant of Inspection (GOI), which gave the company the official OK to start selling its chicken products, labeled as "cell-cultivated," to restaurants, chefs, and consumers.
Both Upside and Chef Crenn have been preparing for that big day, and planning for Upside Food's chicken to become the centerpiece of the first meat dish Crenn will bring back to her menu. "Working with Chef Crenn has been a delight," Upside Food's chief operating officer Amy Chen told Food & Wine. "She's oftentimes in our test kitchen working alongside our food developers trying out new recipes and riffing on different recipes. It's been a joy to have her in our orbit, and to be inspired by a three-Michelin-star chef. Watching her cook is a real gift."
Crenn originally met Uma Valeti, Upside Food's founder and chief executive, because he was a regular at Atelier Crenn. "I also had a chance to get to know him personally, along with his vision, his sensitivity and his narrative," she told Food & Wine. "His vision was clear, thoughtful and uplifting for the world. He understood the need to change the food system — for inspiring and noble reasons. I connected with that."
Cell-cultured meat, according to the USDA's Food Safety and Inspection Serive guidelines, is derived from live animal stem cells which are grown and multiplied, eventually becoming muscle, fat, or connective tissue (and sometimes given additional structure using soy, gelatin, or other proteins to replicate the texture of the intended meat). And, perhaps most importantly to meat alternative advocates, the process forgoes the need to slaughter any animals.
Chef Crenn was given an early chance to taste Upside Food's cell-cultivated chicken, and became a true believer after that. "The taste and quality were also what I was focused on," she continued. "To my surprise and excitement, the chicken was juicy, delicious and better than any supermarket chicken breast I had eaten. I was sold."