18 Mar 2023
Hilton launches 'Green Ramadan' at Conrad Dubai in partnership with UNEP West Asia, Winnow and Goumbook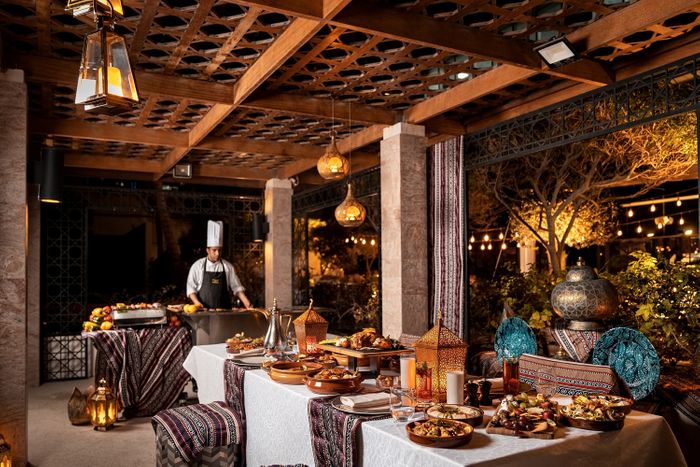 Dubai, UAE: Hilton (NYSE: HLT), in partnership with the United Nations Environment Programme (UNEP) West Asia, Winnow and Goumbook, has announced the launch of Green Ramadan, an initiative which will see food waste reduction efforts implemented across several key markets in the Middle East, including the UAE at Conrad Dubai.
With reports from UNEP West Asia showing that food waste increases by 25% - 50% in the region during religious and social festivities, Hilton is introducing measures to minimise waste during the holy month of Ramadan and drive awareness around local sourcing and food waste. The initiative is in line with Hilton's Travel with Purpose 2030 Goals to reduce food waste sent to landfill by 50%.
The partnership will combine Hilton's drive towards a net zero future, UNEP's 'Recipe of Change' food waste reduction campaign, Goumbook's local sustainability expertise and Winnow's AI technology – allowing for digitally led tracking of food waste throughout Ramadan. In doing so, Hilton will gather data to predict future procurement and production needs while also minimising its long-term environmental impact.
As part of the initiative, participating Hilton hotels across UAE, KSA and Qatar will compost excess food waste, prioritise local food sourcing within a 50-mile radius, promote plant-based dishes, restrict plastic use across operations, and partner with food banks.
In Dubai, Al-Wāha by Conrad Dubai will offer guests a tasteful dining experience , which will feature local produce from Fresh on Table, and an innovative plant-based section with a thoughtfully curated menu that helps to significantly cut food-related emissions. The hotel is also partnering with the UAE Food Bank to reinforce charitable giving by donating 100 meals per day throughout Ramadan. Conrad Dubai will also compost food waste from Al-Wāha through The Waste Lab.
Emma Banks, vice president, F&B strategy & development, EMEA, Hilton, said: "As a global hospitality brand, Hilton has a responsibility to lead the industry in the pursuit of sustainable solutions. We are delighted to embrace the holy month of Ramadan with the introduction of the Green Ramadan initiative. Our partner, Winnow, will play a crucial role in this digital-first approach by collecting food waste data and using it to inform our local procurement requirements while working closely with our partner Goumbook to ensure an educated approach towards the implemented sustainable practices. We're also aligning closely with UNEP West Asia's ongoing 'Recipe of Change' campaign aimed at reducing food waste across the value chain".
"We hope that Hilton's Green Ramadan initiative will set the standard for years to come by encouraging local food sourcing and reducing food waste," added Banks.
Mr. Sami Dimassi, UNEP representative and regional director, West Asia, said: "We are very pleased to collaborate with Hilton to activate this campaign across its key markets in the Middle East. Reducing food waste is not only about saving food, but also about saving resources. The only way forward is to work hand-in-hand by engaging the local community, private sector, and influencers. Today, every plate counts and so does every wasted plate. Let us all fight food waste and work towards a more sustainable future".