29 Jun 2021
How to eat healthy and save the planet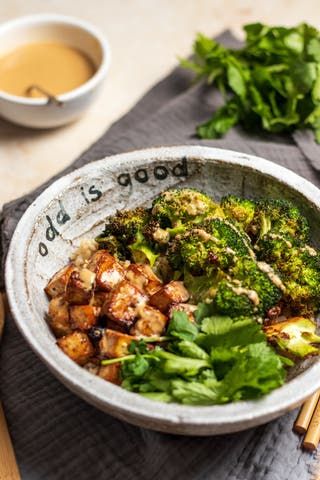 Eating healthily and sustainably should be a joy, not a chore, writes Hannah Twiggs. Here's four recipes to slip into your rotation for Healthy Eating Week and beyond
t's Healthy Eating Week, the British Nutrition Foundation's annual campaign to encourage people to make positive changes to their lifestyle. No, this doesn't mean you only have to eat healthy food once a year – the foundation is setting a new health aim every day that we can all strive for.
This year, they're focusing on eating more whole grains, varying your vegetables, drinking plenty of water, moving more, being kind to your mind, and getting active and eating healthily together. To help everyone from budding home chefs to novice cooks make the most out of this important movement, food waste fighters (and vegetable delivery box service) Oddbox has come up with four summery, plant-based and vegetarian recipes.
Eating healthily and sustainably should be a joy, not a chore, so they're urging people to consider making these recipes with rescued produce, that is fresh from growers, tasty and planet-friendly, too.
The environmental impact is just as important as the calorie count – 3.6 million tonnes of food is wasted every year in the UK before it even leaves the farm as it's deemed "too big", "too ugly" or there's "too much" of it – so each recipe includes how much energy and litres of water you could save if you used rescued veg.