19 Feb 2018
UAE Ascends Food Producers Ladder As Innovation Tops Menu at Gulfood Awards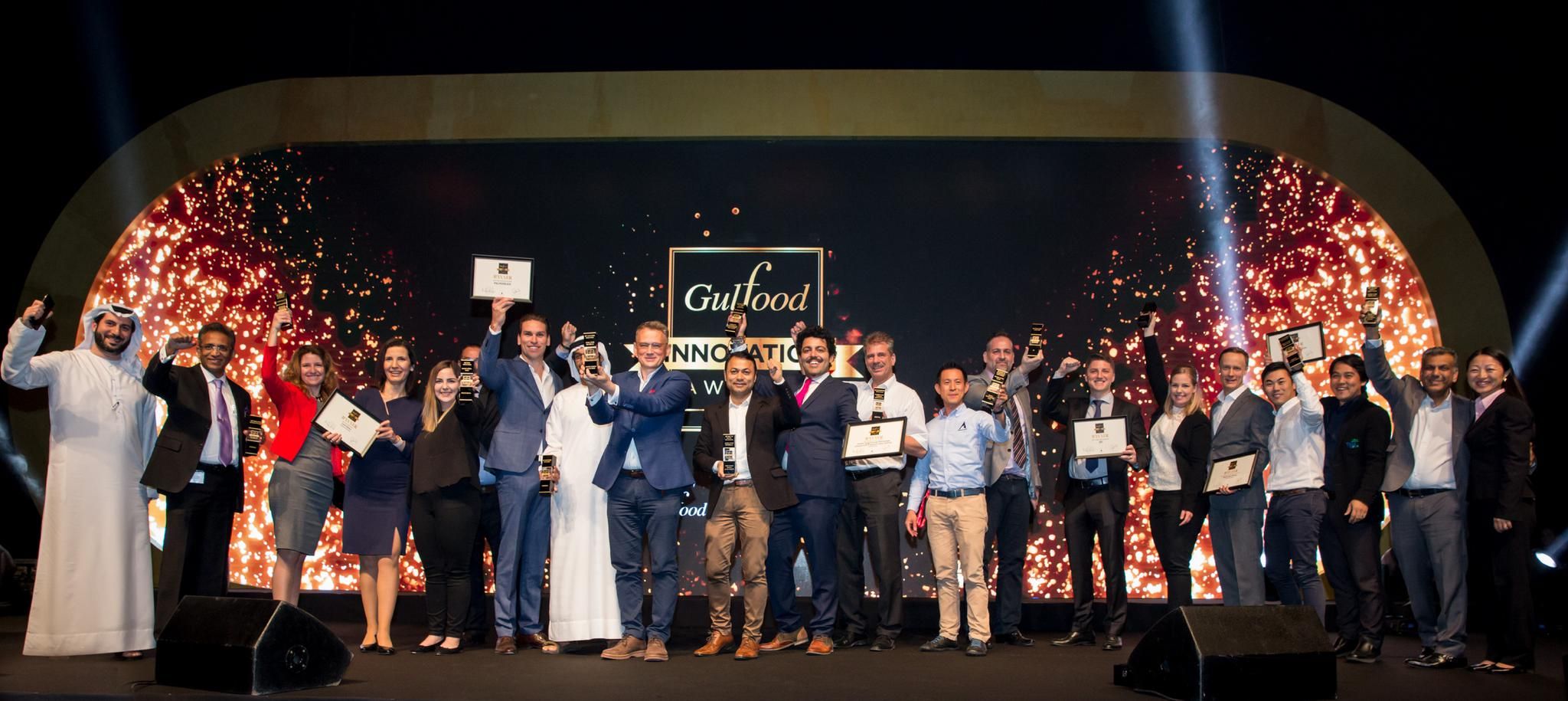 Emirates' Global Food Industries claims twin gongs for Best Halal Food and Best Meat & Poultry Innovation, while European food producers dominate in five of ten categories
With cutting-edge technologies and product evolutions topping the menu at this year's Gulfood, two of the UAE's leading food producers claimed three notable accolades at Sunday's Gulfood Innovation Awards.
Recognising the best new-to-industry technologies and product-specific innovations across the event's 5,000-plus local, regional and international exhibitors, the Gulfood Innovation Awards featured 10 awards judged by a panel of industry leading chefs, retailers and food sector professionals.
The UAE's Global Food Industries more than held its own against an international field of food innovators to claim gongs for Best Halal Food Innovation and Best Meat & Poultry Innovation, while Hunter Foods Ltd. FZCO took home the award for Best Organic Innovation. The two firms' trio of gongs ensured the UAE's top ranking on the night, notching more category wins than any other country.
"These awards confirm our commitment to innovation – we are relentless in pursuing opportunities which provide better value and products to our consumers," said Jacek Plewa, General Manager, Global Foods Industries. "We are the first UAE company to create superfoods for consumers' daily use. Our products are completely transparent, with no preservatives or fillers, reduced salt and no MSG. We have 30 per cent more protein, 60 per cent less calories and 90 per cent more fibre. These products address increasing consumer demand for true health and wellness products and our ambition is for a million people to try our products this year."
Mark Napier, Gulfood show director, added: "The UAE companies' wins reflect the maturing food production landscape both domestically and across the wider region. It's no secret that Arab Gulf states are working extremely hard to reduce their over-reliance on food imports and these wins show that when the right ingredients are in place, homegrown companies can more than compete on the international arena."
With half of the 10 awards being scooped by European winners from the UK, Germany, Austria, Finland and Spain, respectively, the USA's Atlantic Foods Co. Ltd. won the Best Baked or Confectionary category for its Temole Pomegranate Chips product, while Thai Coconut Public Company won top prize in the Best Soft Beverage category for its Sparkling Coconut Water.
"Innovation is about being in synch with consumer needs, being aware of those needs and being brave enough to do something about it – and all our award winners have shown that innovation is in their brand DNA," said Seda Solmaz, MEA Director Marketing Services, Tetra Pak.
The full list of Gulfood Innovation Awards winners:
Best Baked or Confectionary: Temole Pomegranate Chips by Atlantic Foods Co. Ltd. (USA)
Best Condiment or Sauce: Tangy Orange Marmalade infused with Indian Saffron by Mahbit Saffron (UK)
Best Dairy Innovation: Cocoa Aloha by Maresi Austria (Austria)
Best Frozen or Chilled Food: Dairy-free / vegan ice-cream made with olive oil by La Ibense Bornay (Spain)
Best Halal Food: Chicken Quinoa and Kale Burger by Global Foods Industries (UAE)
Best Health & Wellness Product: Hikian Raw Honey by Hikian Raw Honey (Finland)
Best Hot Beverage: Quick Tea by The Fresh Food Company (Germany)
Best Meat or Poultry Innovation: Super Chicken Quinoa & Kale Nuggets by Global Foods Industries (UAE)
Best Organic Product: Hunter Collection – Lizi's Organic Granola by Hunter Foods Ltd. FZCO (UAE)
Best Soft Beverage: Sparkling Coconut Water by Thai Coconut Public Company (Thailand)
The winning products from the Gulfood Innovation Awards are being showcased in the Gulfood Discover Zone in Zabeel Hall 4 throughout this week's show.
Visit the feature's webpage to view highlights of the Awards gala night.