16 Aug 2023
Ma'aden to supply 600,000 tons of fertilizers to Bangladesh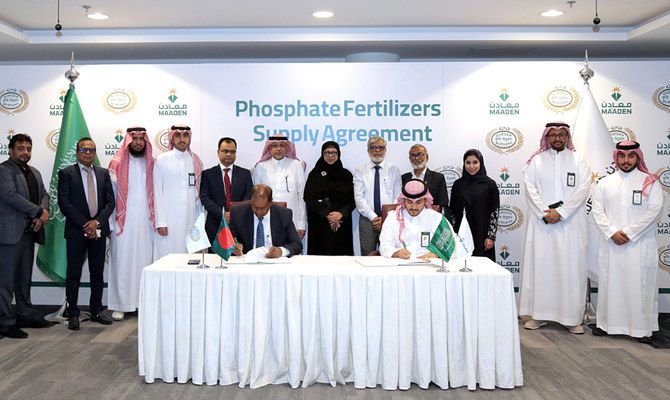 Saudi Arabian Mining Company, known as Ma'aden, has renewed its agreement with the Bangladesh Agricultural Development Corporation, to supply 600,000 tons of fertilizers to BADC. The agreement was signed on the sidelines of a BADC delegation visit to Ma'aden's headquarters.
Ma'aden, which is the largest multi-commodity mining and metals company in the Middle East and the world's second-largest exporter of phosphate fertilizer, supplies approximately 42 percent of Bangladesh's estimated requirement of di-ammonium phosphate. The renewal of this agreement further solidifies the company's commitment to meeting global market demand for phosphate fertilizers.
Over the past years, Ma'aden has scaled its production of sustainable and resilient phosphate fertilizers, with plans to increase its phosphate fertilizer production by 50 percent to 9 Mtpa through the company's Phosphates 3 megaproject. Ma'aden is playing a growing role in the global agricultural value chain, by strengthening partnerships with key stakeholders to deliver high-quality fertilizers and play a role in helping support global food security.
Reflecting on the agreement, Hassan Al-Ali, executive vice president, phosphate business unit at Ma'aden, said: "We are pleased that we are able to continue working with BADC to ensure a reliable supply of high-quality fertilizer products to the Bangladesh market. As we grow our business, partnerships like these are helping us drive sustainable growth in agricultural output to agricultural markets around the world despite global economic challenges. We are excited to extend our near-decade-long relationship with BADC and play a role in helping support food security efforts in the region."
Ma'aden, which had revenues of SR40.3 billion ($10.7 billion) in 2022, aims to develop the mining industry into the third pillar of the Saudi economy in line with Vision 2030.
The company operates 17 mines and sites, has 6,500+ direct employees and exports products to more than 30 countries. It plans to embark on massive growth over the next 18 years across phosphate, aluminum, gold, copper and new minerals — to leverage the Kingdom's estimated $1.3 trillion mineral endowment and international opportunities.