02 Oct 2022
Mars unveils plastic jars with 15% recycled plastics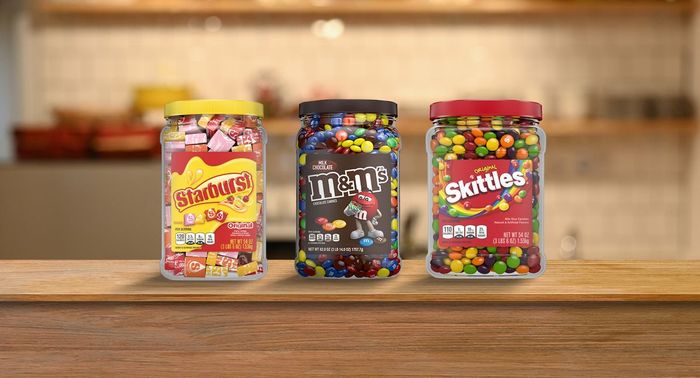 Dive Brief:
Mars has debuted candy jars made with 15% recycled plastic — for M&M's, Starburst and Skittles bulk products — in collaboration with packaging manufacturer Berry, which will launch in October.
The containers are available in 60-, 81- and 87-ounce varieties and will eliminate roughly 300 tons of virgin plastic each year, the companies said.
Mars is investing hundreds of millions of dollars to redesign its packaging to be more sustainable as it aims to get closer to its pledge of reaching 100% recyclable packaging by 2025.
Dive Insight:
Food and beverage companies aiming to eliminate virgin plastic from their operations are coming up with unique ways to decrease the total amount, even if it's currently not as far as sustainability activists would like.
Packaging made using recycled plastic allows CPGs to phase out the use of virgin plastic — materials that have not been recycled — and come closer to reaching a circular packaging economy where all plastic is reused.
For the new packaging with Mars, Berry said it used its technology to make two larger candy jar types lighter by 10 grams each, which it said will save 374 metric tons of carbon dioxide annually. This is equal to 42,084 gallons of gasoline, as well as the electricity use of 72.8 homes for one year, according to Berry.
Berry said in its press release that it approached Mars about creating, provides a sustainable solution for the candy packaging that doesn't interfere with the functionality of the containers.
Mars said the adoption of PCR (post-consumer resin) recycled plastic advances its approach to redesigning its packaging, according to the Skittles maker's North American vice president of R&D Justin Comes.
"At Mars, we want to contribute to a circular economy where packaging material never becomes waste, but is recycled, reused or composted," said Comes. "We have set an aggressive, science-based strategy to innovate our packaging and this change to 15% PCR for these large-format jars is a significant step towards a more sustainable future."
In 2021, the company announced a two-year partnership with packaging manufacturer Danimer Scientific to create biodegradable packaging, made through a natural fermentation process using plant oils, including soy and canola.
The candy giant has also used product launches to move closer to its sustainability goals. This year, Mars debuted chocolate bar CO2Coa, made with both milk chocolate and animal-free dairy from Perfect Day, which is developed using a precision fermentation process that produces 97% less greenhouse gas emissions than traditional dairy.
Other candy brands have announced recycled packaging for their candy products. In 2021, Nestlé launched a wrapper made with 30% recycled plastic in Australia, but the CPG giant has not indicated whether it will receive a global launch.