01 Apr 2023
Moooove over: How single-celled yeasts are doing the work of 1,500-pound cows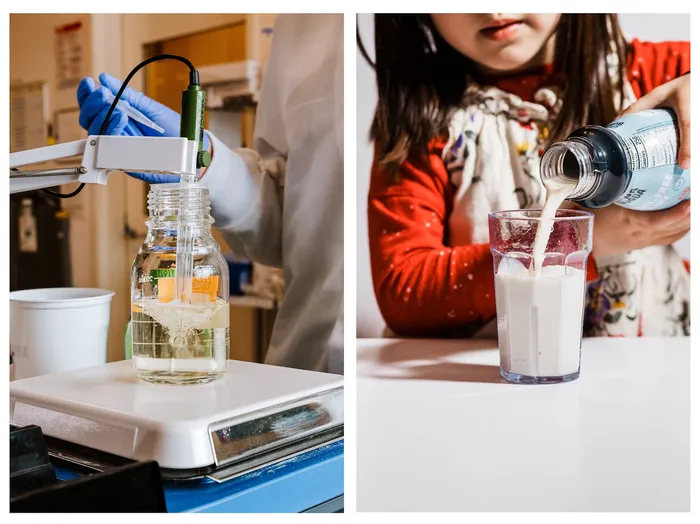 BERKELEY, Calif. — The first course was a celery root soup lush with whole milk. The last was a spice cake topped with maple cream cheese frosting, served with a side of ice cream. And then a latte with its fat cap of glossy foam. In all, a delicious lunch. Maybe a little heavy on the dairy.
Only this dairy was different. It was not the product of a cow or soybean or nut. The main ingredient of this milk was made by microbes in a lab, turned into tasty and recognizable food, and then served to a hungry reporter.
Lab-grown meat is coming. But lab-grown dairy has already arrived.
Dozens of companies have sprouted up in recent months to develop milk proteins made by yeasts or fungi, including Perfect Day, the California-based dairy company that laid out this unusual spread. The companies' products are already on store shelves in the form of yogurt, cheese and ice cream, often labeled "animal-free." The burgeoning industry, which calls itself "precision fermentation," has its own trade organization, and big-name food manufacturers such as Nestlé, Starbucks and General Mills have already signed on as customers.
The rapid advancement in this area has sparked hope for a revolution in the dairy industry, and not just because it's kinder to the cows. Precision dairy doesn't have cholesterol, lactose, growth hormones or antibiotics (though those with dairy allergies should beware). And cattle, for beef or dairy, is said to be the No. 1 agricultural source of greenhouse gases worldwide. Consumers concerned about climate change or animal welfare have been anticipating the U.S. launch of cultivated meat, which is grown in labs from animal cells, but cultivated dairy could have just as much of an impact on the environment — with fewer regulatory hurdles to clear.
Despite widespread acceptance of soy, oat and almond milk, U.S. consumers, even vegan ones, continue to be underwhelmed by plant-based cheese options: Mostly made of starch and oil, they often lack the flavor or texture (no gooey strings, not enough bounce) of real cheese. And cheese is especially bothersome for the environment, more so than its liquid counterpart: Making one pound of cheese requires 10 pounds (or about five quarts) of cow's milk. The World Economic Forum and many scientific reports suggest cheese generates the third-highest emissions in agriculture after beef and lamb.
For Ryan Pandya, chief executive of Perfect Day, those are the problems he's solving. But it really started as a bagel problem.
Studying chemistry and bioengineering at Tufts, he'd gone vegetarian but still had a craving and taste for animal products.
"I had a bagel with vegan cream cheese that was so bad that it led me to investigate. What's so hard about this? A lot of dairy alternatives are not made of food," he said with a wince.
He hit upon a process called precision fermentation, similar to what has been used for decades to brew beer, make insulin for diabetic patients or produce rennet for cheese.
"Rather than using 22nd-century technology to produce meat, we're using 20th-century technology to produce milk protein," he said.