21 Jun 2023
Organisers of largest Saudi Food Show announce launch of next mega show Saudi Food Manufacturing following highly successful opening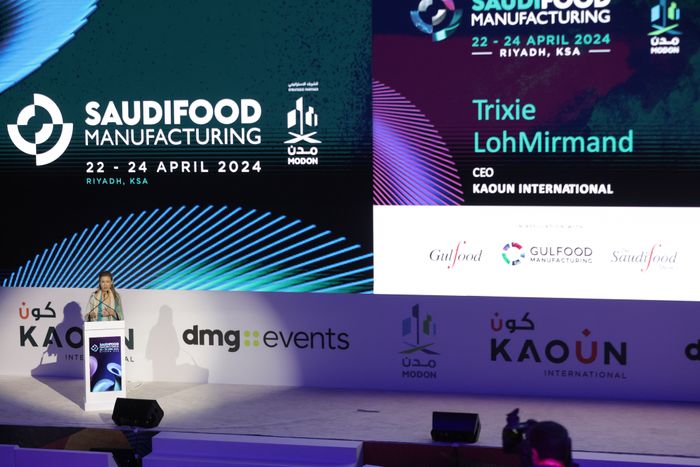 Strong government support reflects key role of F&B sector in achieving Vision 2030

Sustainability, efficiency and innovation the focus of high-level discussions and technology showcases

RIYADH – 21 June, 2023: Organisers KAOUN International and dmg events announced the launch of the eagerly awaited Saudi Food Manufacturing show earlier today, at a press conference on day two of a packed Saudi Food Show. With increased market demand the inaugural edition of Saudi Food Manufacturing will raise the Kingdom's fast-growing food manufacturing and processing sector to new heights, and cement its place at the heart of progress towards the strategic goals set out in Vision 2030. Saudi Food Manufacturing is affiliated with The Saudi Food Show - the Kingdom's largest F&B business event to date, Gulfood Manufacturing and Gulfood - the world's largest food and hospitality business event in the world.
The inaugural edition of Saudi Food Manufacturing, set to take place in Riyadh from 22-24 April 2024, has already garnered the endorsement of some of the most influential ministerial stakeholders in Saudi Arabia, including the Saudi Authority for Industrial Cities and Technology Zones (MODON), as the strategic partner for the event.
Ali Alomeir, VP of Business Development at MODON commented: "As Saudi Arabia looks to broaden its industrial base in pursuit of its National Industry Strategy, we see a central role for food manufacturing, given its growth potential and attractiveness to investors. By developing and overseeing integrated industrial cities across the Kingdom, our objective at MODON is to catalyse investment and growth in food manufacturing. Saudi Food Manufacturing provides the ideal platform to connect with the global food manufacturing community in pursuit of this, and it was a natural fit for MODON to be the strategic partner for the show."
Saudi Food Manufacturing will bring together the F&B manufacturing industry across the processing, packaging, ingredients, supply chain solutions and control & automation sectors, providing a dedicated platform in Saudi Arabia to showcase new global products, solutions and technologies across the food and beverage value chain.
Trixie LohMirmand, CEO of KAOUN International, commented: "Through Saudi Food Manufacturing, we will unlock the immense opportunities presented by innovation across the F&B manufacturing industry, highlighting the untapped potential in Saudi Arabia and playing a part in the Kingdom's emergence as a global F&B player. Investment in Saudi Arabia's F&B sector, and the knock-on effect on food security and industrial diversification, will play a key part in the realisation of Vision 2030, and this is encouraging manufacturers to explore new technologies and innovative solutions to achieve this. We are excited to see global powerhouses gather at our inaugural event, ready to address the key challenges facing the sector, and transform food systems through insightful discussions and strategic collaborations.
Matt Denton, President of dmg events, added: "Having worked together to create the fantastic Saudi Food Show, Saudi Food Manufacturing will be our next step in developing a portfolio of international events servicing all aspects of the F&B industry. These two events will become the catalyst for discussion and development of a broad range of topics affecting the industry, hosting content on white label, food franchise, food security and food tech."
The Saudi Food Tech Summit will be a chance for international F&B manufacturers from these segments to gain insights into the huge potential for innovation and investment in the food and beverage (F&B) manufacturing industry in Saudi Arabia, given fresh impetus by the recently-announced Saudi food manufacturing roadmap, as the Kingdom looks to expand and diversify its economy.
Already home to almost 1,000 food and beverage production facilities, employing more than 200,000 people, the Saudi food manufacturing and processing sector is continuing to grow. On course to reach 50 billion SAR (approx. USD13.3 billion) in size by 2025, an additional USD 70 billion is projected to be invested in the sector by 2030. Specific growth areas include seafood, intermediate ingredients production, date production, and health foods.
Dr. Ihab Jaffan, Business Development Officer for First for Food, commented: "The Saudi Food Manufacturing holds an immense importance for our company, it provides us with an opportunity to exhibit our products, connect with industry leaders, and gain valuable insights into emerging market trends by participating in the Saudi Food Manufacturing event, we not only showcase our commitment to excellence but also position ourselves as key players in the industry."
-END-
About KAOUN International
KAOUN International is the independent events company and wholly owned subsidiary of Dubai World Trade Centre (DWTC) established to organize and manage events internationally. Derived from the Arabic word 'universe', KAOUN International's mission is to 'Create Limitless Connections' for the industries and markets in which it operates. Created to leverage the 40-year legacy of DWTC's events management business and drive future MICE sector opportunity in the MENASA region. KAOUN International delivers game-changing live experiences that build robust business connections, create opportunity, and stimulate economic growth, building on DWTC's extensive portfolio of business and consumer events spanning multiple sectors, including technology, food and hospitality, sustainability, broadcast and satellite, automotive, talent development and leisure marine.
About dmg events
dmg events is a leading organiser of trade events and a publisher of trade magazines. Founded in 1989, the company is headquartered in Dubai, UAE, and is a wholly owned subsidiary of the Daily Mail and General Trust plc (DMGT), one of the largest media companies in the United Kingdom with total revenues of around £1bn. dmg events mission is to accelerate business through face-to-face events. The trade exhibitions are a focal point, supported by strategic conferences, certified workshops, facilitated networking and industry publications.
dmg events organises more than 80 events across 25 countries, attracting over 425,000 attendees and delegates every year. The company's portfolio of products includes many industry-leading events in the hotel and hospitality, interiors, energy and construction sectors.
dmg events has expanded operations to achieve impressive growth by the launch of events, strategic acquisition of complementary businesses and by geo-adapting flagship events.