19 Nov 2023
The Return of Real Food: Embracing Authenticity in Modern F&B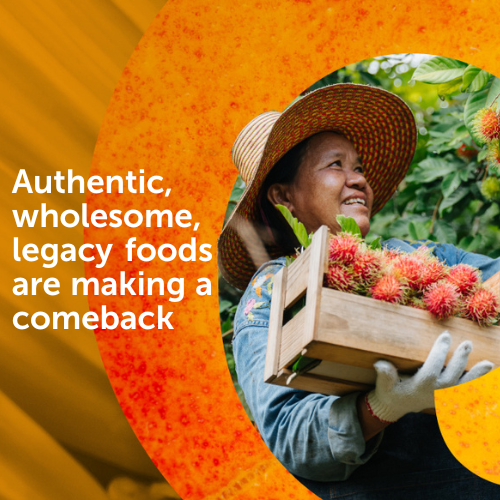 A return to our roots: how the rebirth of "real food" culture is redefining our plates, from both a cultural and health perspective - and what this means for F&B businesses.
In an era recently dominated by fad diets, quick-fix food trends, and off-the-wall innovations that seemed to follow the idea "the weirder the better" (fuelled in large part by social media and its viral food trends), there's now a growing movement back to the basics - a return to real food. Thanks to a combination of increasing consumer awareness around health and well-being, and the fact that research has shown that people all over the world care more and more about the ethics and sustainability of the products they choose, this increasingly discerning and conscientious customer is creating a major shift in demand around F&B. Amidst calls for more nutrition, planet-friendliness, and transparency in their products, people are now also shifting their focus towards authenticity in what they eat, veering away from overly processed, artificially enhanced, or "inauthentic" meals even from a historical cultural perspective. This resurgence of "real" food marks a pivotal moment in our culinary culture, emphasising the importance of whole, unprocessed, and nutrient-dense foods that sustain both our bodies and the planet and the role this will play in the future of F&B.
The modern allure of "real food" and this return to our roots seems to lie in its simplicity. At a time when people are increasingly spoilt for choice at every turn (and in practically every industry), choice paralysis is a common problem in this day and age. Classic, straightforward, and nutritionally-rich foods - from ingredients to meals - now stand out more than ever as trusted and tested options amidst the razzle dazzle of wacky creations that seem more like science fiction than reality, and consumers facing choice overload that leads to decision paralysis, and all over the world, people would like to know what they're eating, what went into making it (both in terms of the "what" and the "how"), and what it can offer them. From the staples that have stood the test of time to the rediscovery of legacy foods cherished by our ancestors, there's a collective yearning for meals brimming with wholesome goodness. Pulses, grains, and locally-sourced ingredients have become the heroes on our plates, offering sustenance, flavour, and a connection to our ethnic roots. Nutritionally-dense and vitamin-rich foods have become the hottest commodities, and the F&B that can tick as many of these boxes as possible has become king.
Statistics back this trend, revealing a notable increase in consumer preference for unprocessed foods. As a recent article from Food Navigator put it, "Consumers don't know what 'ultra-processed food' is, but know they don't want it." This transformation in our approach to food extends beyond a mere preference for authenticity; it's a conscious choice rooted in health consciousness. Real foods, with their abundance of essential nutrients, offer a natural path towards improved well-being. The shift towards these nutritional powerhouses has sparked a greater awareness of the impact of food on our health, pushing people to reevaluate their dietary choices. And the fact that certain foods have lasted through the test of time to feed certain cultures and populations throughout history, many of which are now classed as superfoods - from ancient grains such as quinoa, amaranth, and buckwheat, to rich sources of fibre and healthy sources of polyunsaturated fatty acids such as chia and flax seeds, the association between ancestral foods and wholesomeness is growing stronger than ever.
This renaissance of real food isn't just a health-related pursuit - it's also part of a collective movement towards sustainability. By embracing locally-sourced and minimally processed ingredients, individuals are not only nurturing their health but also supporting local communities and, in doing so, reducing their environmental footprint. The "farm-to-table" concept has already been gaining momentum for years, and as consumers seek transparency in the sourcing and production of their food, this desire for more sustainability-supporting options is only growing greater. Sales of organic, locally-sourced, and eco-friendly foods have boomed in the past few years, from sustainably-caught seafood to plant-based products and various "free-from" alternatives.
This return to basics doesn't mean innovation is dead, however - far from it. Instead, it's quite the opposite. The growing desire for more authenticity, nourishment, and "real-ness" is actually spurring on a whole new wave of innovation, wherein companies across the world are having to become more creative and inventive than ever in finding new ways to meet this demand while also balancing out other pressing modern demands such as more convenience, affordability, and customisation. As the F&B industry works towards achieving both, this resurgence of real food is poised to redefine the landscape for various sectors within the industry. For food manufacturers, for instance, this shift signifies a call for greater transparency and quality in their product offerings. Sourcing is paramount both in terms of quality and ethics, and R&D teams will have to dig deep as their role becomes increasingly powerful in helping brands establish a competitive edge that can drive growth, customer loyalty, and industry leadership. Brands focused on including as many unprocessed, locally-sourced ingredients as possible – or those looking to fortify their existing offerings with added nutrition or providing new "free-from" alternatives of their hero products – may witness increased consumer trust and loyalty. Meanwhile, food retailers will be prompted to curate their shelves with more wholesome and nutrient-rich options. This trend will also seep through to the hospitality industry, as more restaurants and cafes begin to champion authenticity in their menus, with tradition-inspired dishes, and more and more options for the plant-based, alternative-choice customer.
Regardless of where you stand in the supply chain, integrating these new consumer shifts will create monumental changes in the global F&B landscape. As the industry works to meet these demands amidst rising economic pressures, climate issues, and more modern challenges throughout the supply chain, there is also great opportunity for innovation that can propel us forward in leap years. Times of great challenge have historically always created opportunities for powerful change that pushes communities into the future, and this marriage of historical and modern F&B is one that has the potential to thrust the global F&B community leaps and bounds into the future. From food security and food provenance to a climate-led focus on solving sustainability challenges, all while catering to the needs of today's consumer, this return to real food is one that will thrust the global F&B industry into its next great era. It is for this exact reason that this is the theme of Gulfood 2024, wherein the world's largest and most trusted F&B sourcing event will serve as the ultimate launch pad for the real businesses working with every type of real food, who are creating real, transformative, positive change for the industry across the globe.