06 Dec 2022
Saudi Arabia signs $1.86bn deal with Nestle to invest in food industries over 10 years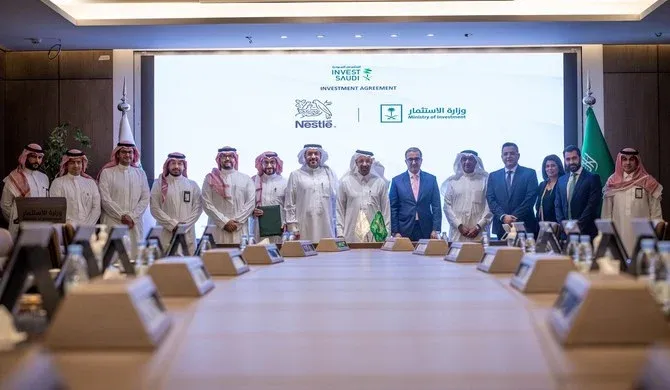 RIYADH: Nestle will invest $1.86 billion in Saudi Arabia over the next decade, a tweet released by the Kingdom's Ministry of Investment's official account announced on Wednesday.
In a move which aligns with the company's expansion strategy in the Kingdom, the food manufacturing giant's initial investment of SR375 million will see the establishment of a manufacturing plant set to open in 2025, followed by a regional center with a research and development program, and its first business incubator for small and medium-sized companies and start-ups, according to a press release by the company.
A primary focus of the company is uplifting regional talent and Nestlé's investments in Saudi Arabia over the next decade are predicted to generate 3,500 direct and indirect employment opportunities in the Kingdom, the release said.
"This strategic plan was developed together with the Saudi Ministry of Investment's food department, reflecting solid investor confidence in the Kingdom and its long-term prospects," said Minister of Investment Khalid Al-Falih. "We more than welcome Nestlé's investments which will contribute to food security and the development of local businesses, fuel local innovation, and create jobs for youth and professionals – all objectives of Saudi Arabia's Vision 2030 which the Kingdom is rapidly progressing with."
Nestle is the largest food and beverage company in the world. It was established more than 140 years ago and sells over a billion products every day to millions of consumers across the globe.
Nestlé's presence in the Kingdom dates back to 1955 with various distribution and agency contracts signed in Saudi Arabia. With the development of the Saudi economy, Nestlé decided to increase its stake in Saudi Arabia becoming the first leading multinational Fast Moving Consumer Goods to operate directly in the country in 2011.
Saudi Arabia's prominence as an attractive and fruitful market for foreign investments was underlined by 53 deals with global investors signed during the third quarter of 2022.
Deals were made across communications, energy and health industry sectors and have presented new opportunities in green energy, technology, healthcare, biotechnology, transport and logistics and innovative startups.
Saudi Arabia also launched the Global Supply Chain Resilience Initiative last month to strengthen the country's global networks while advancing production potential