11 Jan 2023
Scotland: A Land of Food and Drink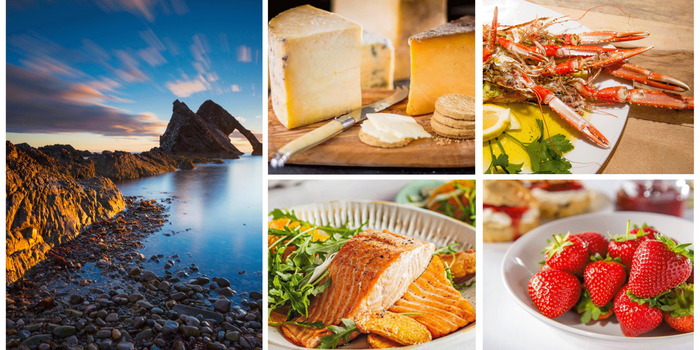 Internationally known for the quality of its natural produce, Scotland has deservedly staked its claim to a seat at the top culinary table. From traditional products – including our world-renowned whiskies and award-winning meat and seafood – to new flavours on the global menu – such as small-batch gins, craft beers, and innovative baked goods – if you are looking for quality and flavour, Scottish produce is hard to beat.
Premium products for premium markets
It is the job of organisations such as Scottish Development International (SDI), Scotland's international trade and investment agency, to support our companies and producers grow internationally. Working with partners across the public and private sector, we have focused on securing lucrative opportunities in premium retail and food-space markets.
We know there is a captive, international audience looking for premium and climate-friendly food and drink. And when it comes to producing quality, there is no better country than Scotland.
Scotland's food exports have increased 111% since 2007 to almost £1.5 billion, with salmon and seafood leading the way. The numbers are just as impressive when it comes to drink: 40 bottles of whisky are exported every second to 180 global markets. Food and drink remains Scotland's top international export sector and work is underway to double our sectoral exports by 2030, ensuring even more global markets can enjoy Scotland's world-class produce.
Gulfood 2023
We are delighted to be returning to Gulfood and our Scottish Pavilion will be in the Sheikh Saeed Hall 1, stand S1-A34 at the Dubai World Trade Centre from 20 – 24 February 2023. Our pavilion will showcase some of Scotland's finest food and drink, with approximately 10 Scottish companies due to be in attendance.
Ewen Cameron, Global Head of Trade – Consumer Industries – at SDI, said: "Gulfood 2023 will offer an unrivalled opportunity for us to showcase Scotland's world-class food and drink produce on the global stage
"We expect our Scottish Pavilion to be a hive of activity, with thousands of buyers serving up export opportunities for our firms. We would encourage all attendees to visit us during Gulfood and learn why Scotland is rightly known as a land of food and drink."
Seafood From Scotland at the Pavilion
At Gulfood 2023, we are thrilled to be showcasing seafood from Scotland for the first time. The Gulf Cooperation Council (GCC) imported £686 million of fish and seafood in 2014. The UAE's average per capita fish consumption is 28.6kg per year, double the regional GCC average of 14.4kg Fish consumption in the UAE is forecasted to exceed 900,000 tonnes by 2030. However, the entire GCC fishing industry currently only produces 392,000 tonnes of fish per year, so a reliance on importing quality produce will remain. Trends suggest that consumer preferences are shifting towards non-local items like clams, mussels, and oysters. Similarly, salmon is among the top 3 sellers in the UAE market. The organic fish segment is also growing rapidly. To find out more about Scotland's offer and our companies, please contact Sitti Mariyah Abu, Scotland's Food and Drink Specialist in the UAE, SittiMariyah.Abu@scotent.co.uk