02 May 2021
Sheikh Mohammed launches Food Tech Valley in Dubai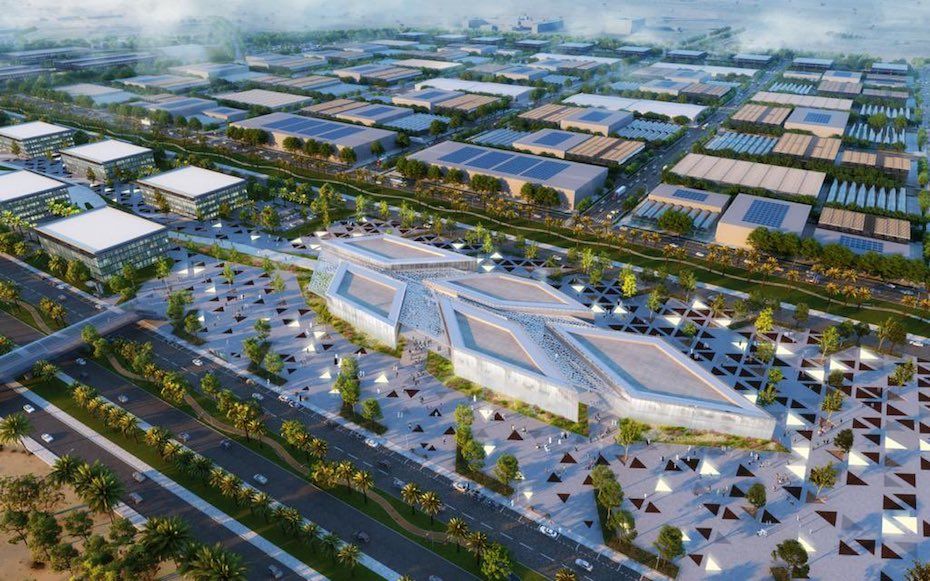 It seeks to triple the UAE's food production and will include a smart food logistics hub, R&D facilities as well as agricultural technology and engineering labs
The first phase of a new initiative that seeks to triple the UAE's food production has been launched in Dubai.
The Food Tech Valley was launched on Saturday, May 1, by Sheikh Mohammed bin Rashid Al Maktoum, Vice President and Prime Minister of UAE and Ruler of Dubai, and is a partnership between the Ministry of Food and Water Security and Wasl Properties to explore urban planning of future smart and food independent cities.
The initiative that aims at helping the UAE meet its National Food Security Strategy 2051 targets, will – in the initial phase of its launch – focus on strategic projects to achieve food self-sufficiency, while ensuring sustainability and conservation of resources, said Mariam Almheiri, Minister of State for Food and Water Security.
The Food Tech Valley will be home to four main clusters: agricultural technology and engineering, a food innovation centre, R&D facilities, and an advanced smart food logistics hub.
The agricultural technology and engineering cluster will have a vertical farm that will employ the latest food technologies to grow year-round vital crops, noted a statement issued by Sheikh Mohammed regarding the initiative. The cluster will also focus on developing innovative projects in bioengineering, automation, robotics and artificial intelligence and supporting capacity building across the food ecosystem.
The food innovation centre meanwhile will provide an integrated agri-business ecosystem to incubate promising ideas and support startups and entrepreneurs. The cluster, which will have a specialised food factory to produce new foods and second-generation restaurants (restaurants 2.0), will explore models that are based on sustainability and production sufficiency to reduce consumption and wastage of resources.
The third cluster will have world-class R&D facilities to train food specialists and support food establishments. The facilities will explore the use of agri-robotics to maximise yields and drought-resistant crops. Specialised researchers will also explore the application of 3D printing in algae cultivation and alternative protein production. The R&D facilities will also study the use of AI to monitor, analyse and manage agricultural crops, and detect environmental impact and climate change.
It will complement global food security research efforts by exploring successful saline agriculture, nutritional genomics, agricultural mechanisation and the use of drones in food production.
The fourth cluster will feature a fourth-generation food storage system that provides smart and automated logistical storage services. The smart storage system will apply blockchain technologies and big data in sorting, transporting and distributing various food products. It will track food quality, origin, components, processing methods, storage and delivery to ensure efficiency of food supply chains.
The initiative aims to create an integrated modern city where over 300 varieties of crops will be produced using modern farming techniques and which will serve as a hub for future clean tech-based food and agricultural products and an incubator for researchers, entrepreneurs, startups and industry experts to develop solutions to address issued regarding food production.
It will support the use of technologies and applied research in food processing and agriculture and apply modern farming techniques – such as vertical farming, aquaculture and hydroponics – to accelerate self-sufficiency in fresh food produce and reduce wastage of resources.
"[The Food Tech Valley project] will be an economic zone, which is particularly significant considering that the size of the AgTech market is projected to grow from $13.5bn to $22bn over the next four years. The project is part of our efforts to achieve our strategic national goals with respect to food security, as it constitutes an incubator for advanced farms – including indoor and vertical farms – with more than 60 per cent of the project's space allocated to these activities," said Mariam Almheiri.
"The project features a food innovation centre that has been designed to resemble a head of wheat and will incorporate laboratories, research centres and prototype agricultural systems. Strategically located close to universities and academic institutions, it will support the R&D ecosystem and explore and deliver sustainable solutions around food," added Almheiri.
Hesham Abdullah Al Qassim, CEO of Wasl Asset Management Group, noted: "The project provides an integrated legislative framework that facilitates new food product development and access to the market. Its competitive incentives and services enable investors to utilise local and global demand for the UAE brand and leverage Dubai's global commercial and trade networks to achieve the desired growth."
According to the Ministry of Climate Change and Environment's 2019 figures, the UAE has more than 177 advanced farms that use modern agricultural technologies and hydroponics, and over 100 entities that implement organic farming across the UAE. These facilitate the growth of locally sourced produce all year-round and reduce reliance on seasonal farming. The country currently hosts over 500 specialised food processing companies that supply to local markets and export globally.
As an economic zone, the Food Tech Valley is a valuable addition to the UAE's 1,250 legislations that support agriculture and food production sectors in ensuring food safety, storage and transport. With food and beverage investments in the UAE currently totalling Dhs62bn, the initiative is expected to contribute to attracting further local and foreign direct investments within the field.