26 Dec 2022
Small Businesses Provide A Scoop Of Hope In Kenya, The Land Of Ugali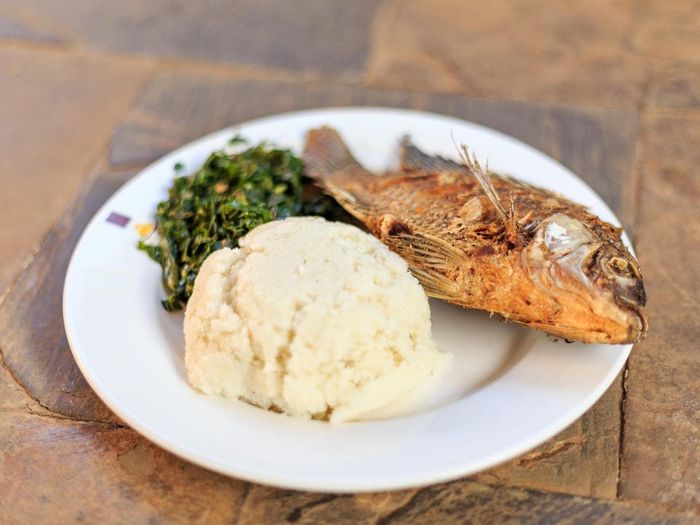 A cream-colored scoop of ugali (oo-gali) maize porridge sits in my plate— a round, stiff ball— its circumference saturated by a colorful mélange of greens and tomatoes, and a perfect pink snapper, staring at me with one intact eye.
I feel a twinge of nostalgia creep up on me in this eastern Kenyan town, more than 10,000 kilometers from home.
Ugali reminds me of cou cou, the national dish of Barbados— my native country— and my Romanian father's mamaliga that he'd boil into a lumpy mixture with milk.
But although ugali shares some basic ingredients with other versions of maize porridge enjoyed around the world, its elevated meaning to the Kenyan people makes it truly distinct. Ugali is not a side dish like mashed potatoes or rice— it is a cultural phenomenon— and it's so much more than just food.
The catchy tunes of Bien and Aaron Rimbui's Mbwe Mbwe (2021) pulsate against the walls of the eatery at my hotel, reminding Kenyans to enjoy the spoils of their hard work, while I settle into my dinner with a team from the Kenya office of the Global Alliance for Improved Nutrition (GAIN), a Swiss Foundation working to help populations overcome suffering caused by malnutrition.
In Nairobi, GAIN is supporting the government to improve the diets and nutritional status of its citizens, which includes 1.82 million Kenyan children under the age of 5 (26% of that age group) who are suffering from chronic malnutrition.
I'm exploring how ugali fits into the whole malnutrition equation, and the GAIN team has kindly agreed to teach me everything I need to know about how maize and ugali fit into the colorful tapestry of Kenyan life.
But I must first learn how to eat without a fork and knife while not looking like a toddler in the process.
I observe my Kenyan hosts as they pinch off portions of the dry porridge, manipulating them with their hands, skillfully turning them into edible scoops, which they use to pick up juicy pieces of fish that have been deboned with non-ugali-holding fingers.
Clement Musyoka, a project manager, demonstrates how to eat the thick staple while another member of the team videos the moment for posterity. I feel self-conscious, considering the restraint that must be going into not laughing at my clumsy attempt at doing something that, for them, is as natural, well— as eating.
Originally introduced to Kenyan diets by the Portuguese, ugali has played a fundamental role in the country's culinary identity for centuries and its Malawian cousin, Nsima, is one of the only foods to be added to the UNESCO Representative List of the Intangible Cultural Heritage of Humanity.
It is a spoon, a fork, a sensory tool to ensure that one doesn't swallow fish bones, it can tone down strong or spicy flavors and is a lifesaver during wakati wa njaa, or periods of hunger between planting and harvest.
Musyoka explains to me that, given the role that ugali plays in Kenya, GAIN was eager to work with small businesses in this sub-sector — particularly during the pandemic.
"COVID-19 has been a food crisis as well as a health crisis," he says. "This is why we launched the Keeping Food Markets Working (KFMW) program. If one sub-sector has such a large role to play in food security, then we need to support that sector as best we can."
Small-scale maize processors, or posho mills, that dot the streets of Kenya's urban and rural areas are a testament to the grain's role in local food culture, fueling a grassroots market valued at $840 million.
The market for ready-packaged maize flour, produced by large-scale millers that are sold in shops and supermarkets, has been valued at $444 million.
Maize contributes 3% and 12% to Kenya's gross domestic product (GDP) and agricultural GDP respectively, and accounts for 36% of caloric food intake.
More than one fifth of all maize consumed in the world is consumed in Sub-Saharan Africa.
But there is one major downside to the dominance of maize in local diets.
While rich in phosphorus, magnesium, and other trace elements, unfortified maize is void of Vitamin A and C, and is low in tryptophan, lysine, riboflavin and niacin, and of all the local staple crops, it is among the lowest in calcium, zinc and iron.
As in many developing countries, in Kenya, where the majority of dietary energy comes from grains like maize, over-consumption coupled with a lack of dietary diversity, has been linked to obesity, malnutrition, low immunity, non-communicable diseases and stunting among children.