02 Jan 2023
How A Stainless Steel 'Cow' Made Cheese for Those Vegan Cowboys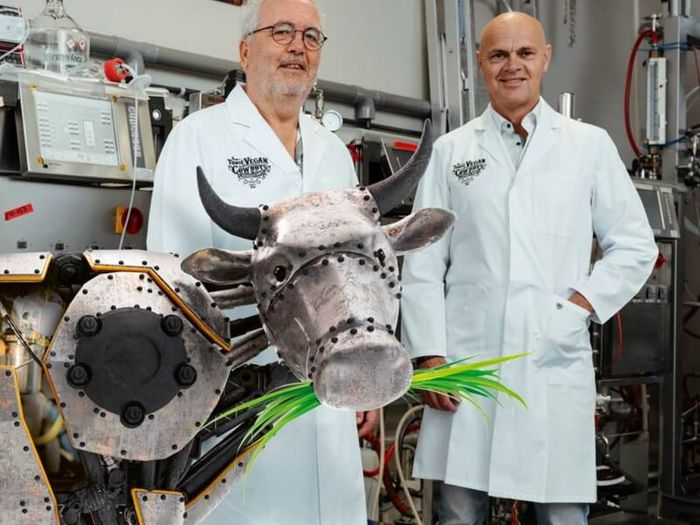 Those Vegan Cowboys, the spinoff brand from the founders of the Dutch plant-based meat brand Vegetarian Butcher, has launched its first precision fermentation cheese.
Jaap Korteweg and Niko Koffeman put vegan meat on the map with the Dutch-Belgian Vegetarian Butcher which was acquired by Unilever in 2018. Now, the duo is focused on innovating in the dairy sector with their spinoff brand, Those Vegan Cowboys.
The brand has just released its first cheese made with precision fermentation — a process that creates dairy-identical caseins via microbes. The tech has been made popular by Bay-Area Perfect Day, which just saw Nestlé release its first precision fermentation milk made with Perfect Day's whey.
The tech eliminates the need for cows to produce a more sustainable and ethical dairy product, such as cheese, that mimics the taste, texture, and performance of conventional dairy.
The microbial cheese is produced in a stainless steel bioreactor that Korteweg dubbed "Margaret."
"Named after Margaret Thatcher, this bovine beauty is quite the revolutionary lady herself," the company says on its website. On top of that she's actually made of metal, unlike the original.
"As the first female prime minister of the country, Thatcher famously put her iron will and vision for the future in the words: 'there is no alternative.' Our Margaret is the first of her kind as well, and the embodiment of our own vision for the future. However, she spreads a message that's quite the opposite, a message that will transcend national borders: 'I am the alternative.'"
Korteweg said the co-founders were skeptical about the process. "When we started the lab after The Vegetarian Butcher, I gave it a 5 percent chance," he said. "But the lab team worked wonders and now we have Margaret's first cheeses. Now it's a matter of scaling up, making the micro-organisms more efficient – in a way similar to the milk cow, an animal that has been pushed to its outer physical limits into giving 10.000 liters of milk per year instead of the natural 1000."