29 Aug 2018
The Middle East food market is ripe with growth opportunities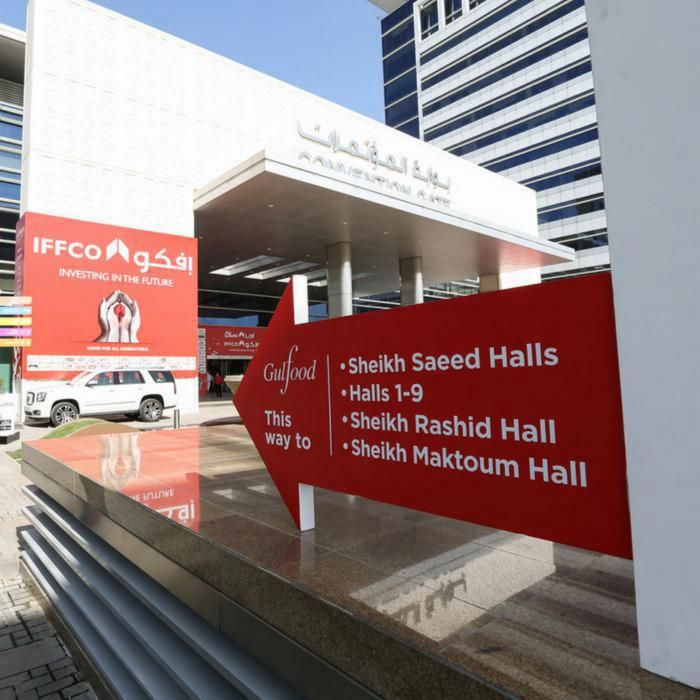 Population and tourism growth are expected to drive food demand and consumption in the region over the next two years
Food imports in the GCC are forecast to double to $53.1 billion by 2020
Over 95,000 visitors and exhibitors from 120 countries are expected to attend Gulfood 2019 in Dubai
With its strategic geographic location and fast-growing population, the Middle East is a diverse and thriving market ripe with growth opportunities for international food and beverage companies and investors. Many countries in the region are heavily reliant on food imports. The GCC, in particular, is home to a young population with high disposable income and a strong appetite for international cuisine and organic food products. Growing demand for new foodstuff opens wide-scale opportunities in front of international food suppliers.
There are so many important reasons why the Middle East continues to attract the interest and investment of food and beverage companies from around the world. Below we have outlined some of the key factors:
Reliance on food imports
Food imports in the GCC are forecast to double to $53.1 billion by 2020, according to a recent report from MEED*. Frozen food demand is on the rise due to consumers' hectic lifestyle, more women entering workforce and changing consumer preferences. The outlook for fresh product imports in the MENA region is also bright with Saudi Arabia, the UAE, Kuwait and Egypt among the top importers in this category, accounting for over 2 percent of global fresh produce imports.
The Middle East and Africa's (MEA) soft drink market is projected to grow by 4.9% to make up 9.8% of the total global retail value by 2023, according to Euromonitor, while the region's hot drinks market is forecast to grow by 5.7% over the same time period, accounting for 11% of the total global retail value. Dubai serves as a re-export hub for hot drinks, such as tea and coffee, thanks to the emirate's ideal geographic position and trade connections.

International tastes
Growth within the Middle East's food and beverage market is driven by its diverse consumer groups which have an appetite for a wide range of cuisines. The UAE, for example, is home to over 200 nationalities, while the number of tourists flocking to the country continues to grow every year. With Dubai expected to accommodate 25 million visitors by 2020, the UAE's hospitality sector is in the midst of rapid expansion, with new hotels and restaurants looking to cater to the changing needs and demand of tourists.
Expo 2020 will be a major factor in driving tourism growth to the UAE, which in return should boost demand and consumption of food and beverage products with 25 million visitors expected to attend the six-month mega event in Dubai. In Saudi Arabia, religious tourism remains a key driver of consumer demand. Plans are in place to increase the number of annual foreign Umrah pilgrims from the current 8 million to 15 million by the end of 2020 and to 30 million by 2030, which would create new growth opportunities for companies operating in the food and beverage sector.

Changing consumer needs
Consumers in the Middle East are increasingly looking to try new types of cuisines and food products, while they are also demanding convenient delivery options which cater to their busy lifestyles. These customers are sophisticated when it comes to their food shopping and eating habits, who spend on high quality and healthy food.
The region's hospitality sector is expanding and several new hotel and retail projects are in the pipeline, especially within the UAE and Saudi Arabia. Shopping malls and hotels are still the preferred locations to open new restaurants due to the growing number of tourists. A report from Al Masah Capital revealed that Dubai alone is expected to add 57,000 hotel rooms in hotels and serviced apartments by 2020.

Strategic geographic position
Ideally situated for East-West trade, the Middle East is an entrepot of commodities and cultures. The UAE is a major re-export hub for food products that are imported to the region from Africa, Eurasia and Latin America. The country is also home to many of the world's largest commercial ports which are designed to high capacity. In addition, there are plenty of attractive free zones on offer in the UAE, providing competitive advantages to food and beverage companies that establish a presence in the country.
Gulfood; the world's largest annual food trade show
Whether its tapping into new markets, connecting with potential business partners or gaining valuable insights on the food market, Gulfood offers something for every type of exhibitor and visitor. As the world's largest annual F&B event, Gulfood provides an ideal platform for food and beverage companies to showcase their offerings, expand their global reach and access new business opportunities. Over 95,000 visitors and exhibitors from 120 countries are expected to attend Gulfood 2019 between February 18 and 22 at the Dubai World Trade Centre.