19 Mar 2023
UAE announces guide for food waste reduction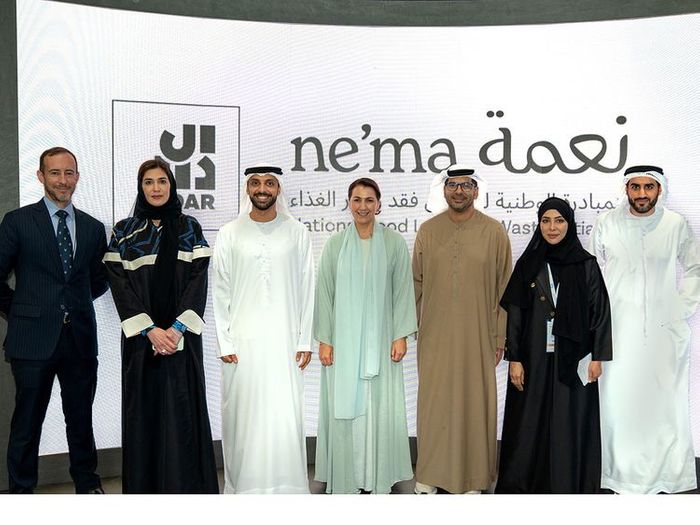 Mariam bint Mohammed Almheiri, Minister of Climate Change and the Environment, officially announced the 'How to Reduce Food Waste Using Three Low-Cost Nudges – A Practical Guide for Canteens and Buffet Restaurants'.
The announcement was made during the ne'ma Voices Forum in the presence of Almheiri, and representatives from across UAE public and private sectors.
The announcement marks a significant milestone in a series of efforts by ne'ma, the UAE's national food loss and waste initiative, to engage with business sectors and individuals to meet the 2030 goal to reduce food loss and waste by 50 percent.
The Guide focuses on three areas, referred to as nudges, that the hospitality sector can implement to educate the public on food loss and waste efforts, and foster positive behavioral changes. These are food loss and waste messaging, designed with the help of behavioral scientists to motivate diners to reduce their plated waste; visual portion displays for diners, to show how much food they are ordering, and help them make more sustainable food decisions; and the introduction of a transparent bin and tracker, to serve as a visual reminder of the everyday impact of food waste.
Commenting on the announcement, Almheiri said, "The vision for food loss and waste reduction requires partnerships and long-lasting solutions to meet our goal for a reduction by 50 percent in 2030. Our commitment to a more sustainable future, exemplified by the ne'ma goal and today's MoUs, are a significant step forward. I thank all who are helping shape this nation towards a better tomorrow. 2023 is the Year of Sustainability, the UAE is working towards its commitment to climate action, as we prepare to host COP28 - a COP of action."
Speaking on the practical guide for canteens and buffet restaurants, Almheiri added, "The guide tackles a larger societal issue of food wastage while dining out, by motivating people to make considered choices in ordering or wasting unconsumed food. By applying the measures to the hospitality sector, we are building on current momentum through collective efforts. With the use of innovation and technology we can transform our food systems into more sustainable ones."
The ne'ma Voices Forum hosted a panel discussion on collective action to reduce food waste in the hospitality sector with key partner speakers Tim Ramsey, Principal Advisor & MENA Lead at The Behavioural Insights Team; Scott Durand, Chief Executive Officer of Accuro Specialist Support Services; Sebastian Nohse, Senior Director of Culinary at Hilton EMEA; Marc Zornes, Founder of Winnow; and moderated by Khuloud Hasan Al Nuwais, Chief Sustainability Officer, Emirates Foundation and ne'ma Committee Secretary General.
The discussion highlighted best practices and positive reinforcement that can have meaningful impact on food waste reduction, if scaled across the HoReCa industries. This was based on consumer insights including results of a successful pilot between ne'ma and Accuro with the support of behavioral science experts from the Behavioural Insights Team testing multiple nudging interventions. ne'ma encouraged hospitality and business to join the movement and scale up such nudges to support the UAE in achieving its reduction targets and their sustainability goals as organisations.
Speaking on the announcement, Ahmed Taleb Al Shamsi, Chief Executive Officer of Emirates Foundation, said, "ne'ma is focused on increasing public awareness on food waste and changing current behaviors while measuring and capturing impact, to meet sustainable development goals. We are incredibly happy about the momentum we have had to date and look ahead to more aligned collective efforts towards a shared goal."
"Through our collaborative efforts, and with the intelligence and force of our partners in the hospitality and technology, we are enabling a change in current waste-related behavior, promoting more positive and sustainable habits that contribute to preserving our food resources in line with the UAE's national food security strategy", he added.