26 Dec 2022
UAE & Egypt will face a significant shortage of skilled labor for climate-smart farms. Here's why that's important.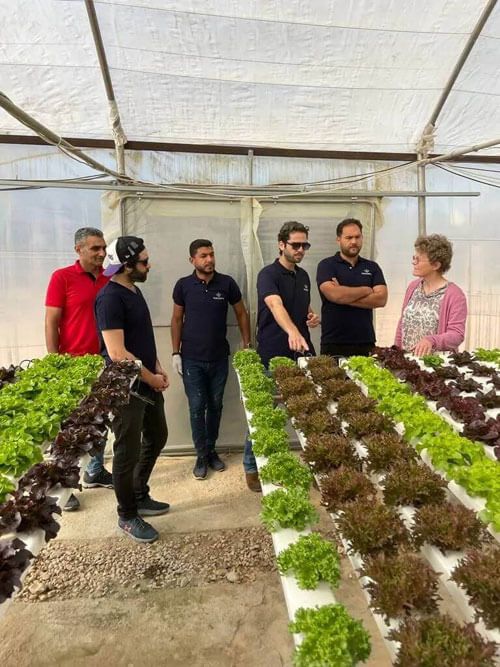 No farmers. No food. No future. That is the saying that reminds us to value not just where our food comes from, but the farmers that grow it for us. While much of the agtech discussions these days focus on investment, markets, technology, and policy, the topic of skilled labor for the future of food is less explored. Let's investigate how a gap in skilled labor could slow the growth of food security in one of the world's most rapidly developing AgTech markets.
Imagine you invest in a huge shiny new high-tech greenhouse in an emerging market only to find that there is insufficient local talent to operate all your fancy technology. You spend more and more time on recruiting, training, and desperately trying to retain the talent you have. This challenge is becoming an increasingly critical issue in the Middle East where a skilled labor gap for climate-smart agriculture is on the horizon.
We already know that climate change poses a considerable risk to water efficiency, temperature gradient and food security across the globe. Rising temperatures, water scarcity, floods, and other extreme weather conditions are occurring in both higher intensities and frequencies. Some regions are on the edge of this climate crisis, threatening key resources harder and faster.
According to the World Resources Institute, there are 17 countries globally suffering from "extremely high water stress", and 12 are located in the Middle East and North Africa (MENA) region due to their desert climate and growing water demand. This makes the MENA region highly vulnerable to climate change and a region of rapidly growing interest in Controlled Environment Agriculture (CEA) that can withstand the water stress and high temperatures now and in the future.
One proposed solution that is getting a lot of attention in the Middle East is Climate Smart Agriculture (CSA), which has the objective of giving this largely desert region resilience against future challenges. In fact, millions has already been invested into this sector in the Middle East and bold plans for food security have been outlined by governments in UAE, KSA, and Egypt to name a few. At COP27, CSA was pushed by public and private leaders as worthy of further investment as the UAE-US led AIM4Climate program doubled its investments to $8bn.
What is climate-smart agriculture?
Climate-smart agriculture (CSA) is a term popularized by UN-related organizations to encapsulate the efficiency and adaptability needed in agriculture. CSA is an integrated approach to managing landscapes—cropland, livestock, forests and fisheries—that addresses the interlinked challenges of food security and accelerating climate change. CSA aims to simultaneously achieve three outcomes:
Increased productivity
Enhanced resilience
When it comes to CSA in the region, Controlled Environment Agriculture (CEA) can play a significant role. It is growing rapidly with the world's largest vertical farm constructed in Dubai and some of the largest greenhouses being built in Egypt. Despite all of these policies and investments, a recent study, funded by IOM and led by Agritecture found that there is a looming skills gap for CEA in both UAE and Egypt.
Research partnership with international migration group
Agritecture partnered with the International Organization of Migration and Hydro Farms, a regional leader in Agri-Tech solutions from Cairo, to research and analyze the current problems of CSA in the region to predict future needs and the role skilled migrant labor could play so the industry can run efficiently and effectively.
The approach we took for the assessment was focused on getting the maximum information from key private sector stakeholders and focused on desktop research, an operator survey, and stakeholder interviews. The major topic of this cooperation was to research, identify and better understand labor gaps related to CSA skills in the region from industry experts and how a Skills Mobility Partnership (SMP) can benefit these countries and equip agricultural workers with essential skills for the industry and other everyday benefits that can be applied in both countries.