17 Nov 2023
How UAE hotels are going green, from vertical farms to AI food tracking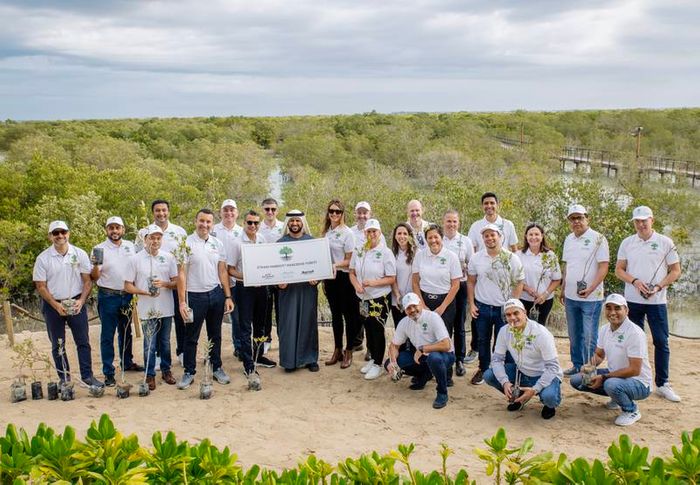 With less than one month to go until Cop28, the eyes of the world are fixed on the UAE and its glittering skyline of five-star hotels.
But whereas the hospitality industry has traditionally drawn the awe and admiration of holidaymakers, it is under an increasing amount of scrutiny for its sizeable carbon footprint.
Tourism is responsible for 8 per cent of the world's carbon emissions, according to Sustainable Travel International, a company that works with governments, businesses and nonprofits to provide sustainable travel opportunities. The majority of these emissions come from transport (49 per cent), with lodging responsible for 6 per cent, covering air conditioning, water heaters, lighting, kitchen appliances and more.
It's estimated that a single hotel produces about 289,700 tonnes of waste globally each year, including 79,000 tonnes of food waste.
In the first seven months of this year, the UAE hosted about 16 million guests across its 1,224 hotels, according to Abdulla bin Touq Al Marri, the Minister of Economy and Head of the Emirates Tourism Council. With this amount of demand and supply, a huge effort is required to make travel sustainable – and the region's hoteliers are increasingly giving eco initiatives the green light.
They are sweeping the industry, with hydroponic farms, EV charging stations and e-butlers in the works.
Turning air into water
In this year's Travel Trends Research study for the UAE and Saudi Arabia, Marriott International found that sustainability is now a big factor when it comes to travel plans.
In the UAE, 85 per cent of respondents said environmental considerations have some impact on their arrangements, while the number in Saudi Arabia reached 80 per cent.
To make sure it is meeting the expectations of eco-conscious guests, Marriott – which has 75 properties in the UAE, with 63,790 existing rooms and 52,790 planned by 2030 – has launched several initiatives, including ones related to water saving, renewable energy, food waste and community. This also includes turning hot air into drinking water.
"The Delta Dubai Investment Park is working with a company to turn the humidity in the air around them into pure drinking water for guests," says Sandeep Walia, chief operating officer of Marriott International in the Middle East.
"The AirOWater system project started in January and will generate 500 to 1,000 litres of water a day. The hotel currently has two AirOWater's Atmospheric Water Generators, enough to cover all the property's water needs across its operations."