UAE Installs Bread-Dispensing Robots Around Dubai To Help Feed Those in Need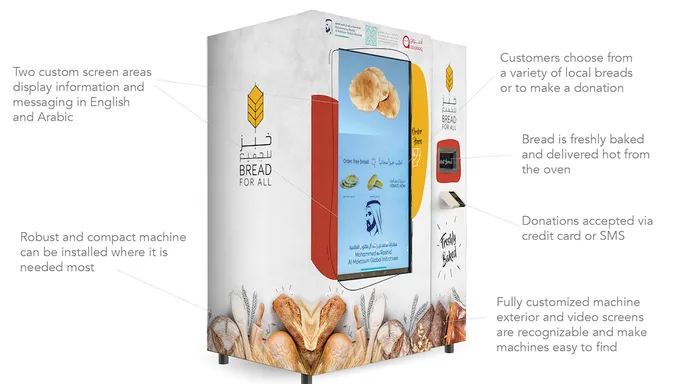 LBX Food Robotics (formerly known as LeBread Xpress) announced today they have partnered with The Mohammed Bin Rashid Al Maktoum Global Initiatives (MBRGI) Foundation to install bread-dispensing robots throughout Dubai to help feed those in food insecure situations. The custom-built Bake Xpress machines will provide a selection of complimentary local breads and pitas and will give customers the ability to make voluntary monetary donations.
The partnership started in 2020 when MBRGI, the charitable foundation of Sheikh Mohammed bin Rashid Al Maktoum (the ruler of Dubai), approached LBX to see if their robotic bread-making robots could be used as a way to get food to people in need. Two years later, the partners have deployed a total of 10 bread-dispensing robots around Dubai as part of the first phase of the collaboration. More robots are planned for the first quarter of 2023.
For those not familiar with LBX's Bake Xpress machines, the unit holds up to 100 different food items in a refrigerated storage. Once the user selects the item, the machine uses infrared and microwave heat to warm the bread before dispensing.