09 Nov 2022
Ukraine's Grain Exports Recover to Near Prewar Levels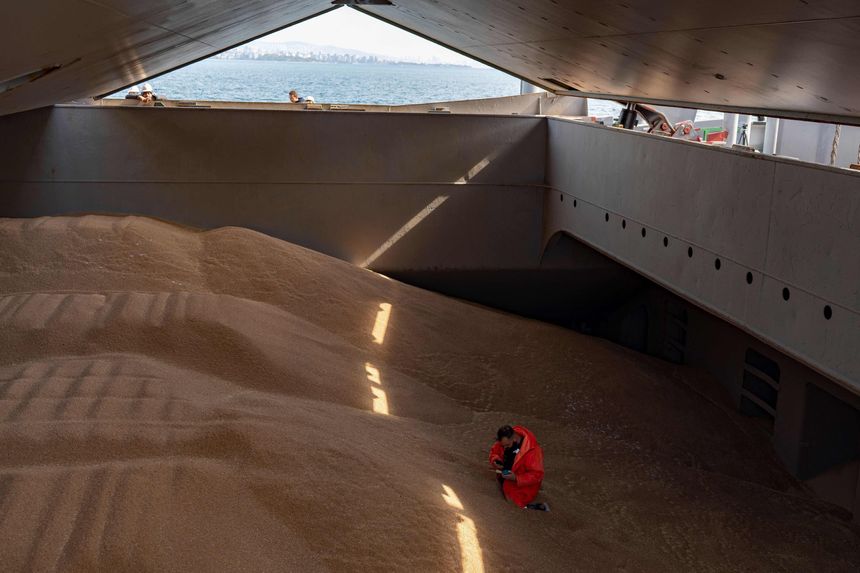 Ukraine said its exports of agricultural products have recovered to around prewar levels, a revival that has helped ease pressure on global food prices and offers a bright spot in Kyiv's fight against Russia.
However, analysts say the rise in exports, which were hit hard by the war, hides continued hurdles for Ukraine's globally important agricultural industry. The country relies on shipping grain out of the Black Sea, a route dependent on cooperation with Russia. Farmers, meanwhile, have planted fewer crops this year, and Russia still controls a large slice of Ukrainian farmland.
Nevertheless, data from Ukraine's Ministry of Agrarian Policy and Food shows the country shipped 6.9 million metric tons of grain, vegetables and edible oils last month, almost matching the 7.1 million tons exported in September last year.
Exports have accelerated this month, the ministry said, with shipments of agricultural products since the start of the Autumn season hitting 10.4 million tons so far—one million tons more than the entire summer season.
Still, analysts caution that much of what has been leaving Ukraine is corn that farmers couldn't get out of the country earlier in the year, as they clear large backlogs of produce.
Export figures could still dip in the future, they warn, given farmers are likely to have planted less wheat this year because of disruption from the war, a lack of money and labor and the high cost of fertilizers.
"Conditions on the ground are disappointing," said Elena Neroba, a manager at Maxigrain, a Ukrainian grain broker.
As of Monday, Ukrainian farmers had planted 2.5 million hectares of winter wheat from an expected 3.9 million hectares in parts of the country not occupied by Russia, Ms. Neroba said.
Less, or lower quality, fertilizer will also decrease crop yields, she said.
As such areas in the developing world that are struggling with acute food shortages, like in drought-hit East Africa, are unlikely to see much respite, particularly as prices remain historically high.
Russia's invasion of Ukraine in February closed off the country's main export route by blockading its Black Sea ports. That prompted Ukraine to reroute some of its grain across land borders, a big logistical challenge that led to reduced exports and added costs.
Ukraine's status as one of the world's biggest agricultural exporters resulted in wheat prices jumping by 46% and corn by 11% in the days that followed the invasion.
Prices have since come down but remain elevated amid the continuing conflict and concerns about the U.S. harvest, among other factors.
The fallout from the war continues to affect higher food prices. On Thursday, U.S. consumer price inflation data showed that grocery prices increased 13% from a year ago in September. Around the world, food prices are 45% higher than before Covid-19 emerged in early 2020, according to the United Nations Food Price Index.
In an attempt to free up supplies and prevent a global food crisis, Russia and Ukraine in July agreed to a United Nations-backed deal to resume grain exports via Black Sea ports.
However, the arrangement leaves most of Ukraine's exports reliant on Russia's cooperation, and Moscow has hinted several times that it could withdraw from the deal.
Last month, 3.8 million metric tons of agricultural products left Odessa region ports via the Black Sea. Meanwhile, 1.24 million tons were exported through Ukraine's Danube river ports and 1.82 million tons crossed land borders by road and rail, according to government data.
Russia's bombardment of Ukraine is also hurting the country's agricultural infrastructure. In recent days, for instance, Russia bombed a large sunflower oil storage facility in the port city of Mykolaiv.