16 Feb 2020
Homegrown and healthy harvests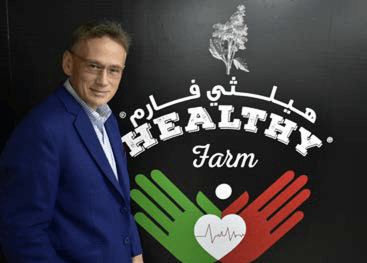 How Happy Farm is helping to buck an imported food trend and lead the meat-free foods journey
Plenty of exhibitors head to Gulfood on a mission - for UAE-based frozen food brand Healthy Farm it is to convert half a million health-conscious consumers to its wares. The multi-award winner from Sharjah is part of the Albatha Group and is back in DWTC to showcase a growing portfolio of plant-based products.
These include popular vegan-certified Plant Protein Pea Kale and Quinoa – beef free and Plant Protein Pea Kale and Quinoa – chicken free while also being introduced in-show is Healthy Farm's Chicken Quinoa & Kale with Salicornia burger, promising 40% less salt added, 25% more protein, four times more calcium, 12 times less fat and 90% less calories than traditional chicken burgers.
The key superfood ingredient is Salicornia, a plant that replaces salt and delivers, along with quinoa and kale, a healthy alternative with a high nutritional profile. That's also good news for the environment as Salicornia eventually will be grown locally in partnership with local farmers - it thrives in salty environments and is already known for its antioxidant, antibacterial and anti-inflammatory properties.
Healthy Farm's new portfolio garnered three major nominations for the Gulfood Innovation Awards 2020, which are announced tonight. "These are deeply researched, tried and tested alternatives to meat and these accolades are a real testament to the tireless dedication of our R+D team," says brand General Manager Jacek Plewa.
"We are no longer in the experimental stage where plant protein food sources are a gimmick or something quaint. These alternatives are impressively gaining preference across the globe as consumers recognise the tangible impact left by nutrition choices on health, wellness, the environment, and animal welfare."
He continues: "Creating a dedicated array of products for the discerning modern food connoisseur that can whet the appetite and yet be healthier than present meat-based products has called for some very innovation-led solutions here in the UAE.
"It is an exciting next step in our quest to help consumers make smarter, informed and
sustainable food choices." Plewa is convinced Happy Farm products will set the standard for a revolution in food choices already in motion. They could also boost UAE ambitions for self-sufficiency by producing more of what it eats while reducing
food air miles.
"We have combined pea protein, which delivers high nutritional value and at the same time is hypoallergenic, unlike soya, aqua kale from our own local aquaponic farm, quinoa and other vegetables and herbs to deliver products that are a delight for the consumer and salutary for the planet as well," adds Plewa.
"We are reaching the point of no return fast, as with the current model of sourcing our food via animals, there will not be enough food for all on our planet in 30 years."
Healthy Farm is set to gain further impetus as the nucleus of a newly formed entity within Albatha Group; Healthy Farm Food Innovation (HFFI) is a new food business vertical dedicated to developing ground-breaking food concepts and products, addressing the needs of the region's growing number of health-conscious consumers across several food categories.
The HFFI will also be positioned so as to enhance Healthy Farm's partnership with
major research and education organisations, schools and universities, liaising with private and government key stakeholders in the UAE to ensure sustainable and healthy nutrition and lifestyles.
To this end, HFFI is already partnering with ICBA, an international, non-profit agricultural research centre with a team of international scientists conducting applied research and development to improve agricultural productivity and sustainability in marginal and saline environments.
Plewa says that beside a company commitment to add to UAE food security,
another major effect of the efforts underway is the integration of these plant-based
options with local farmers and their harvests in an environment that has scarce arable land and water. And that's win, win.