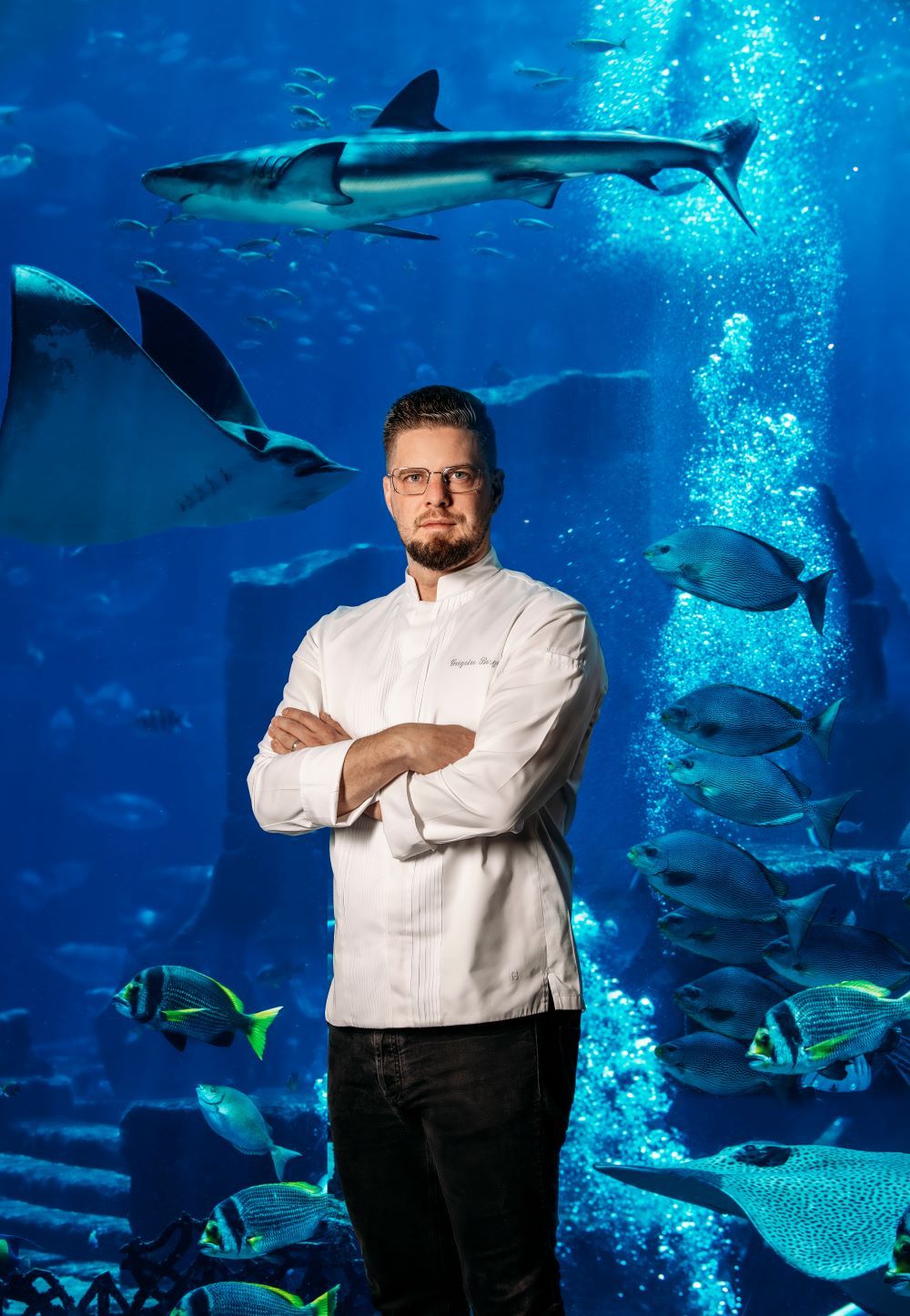 About Chef
Grégoire Berger is the celebrated chef behind Ossiano, Dubai's leading progressive one Michelin star fine dining restaurant with a menu that pays homage to the riches of the ocean and coastal land. Offering a nine to 11-wave tasting menu, dish inspiration is guided by the underwater setting of the restaurant as well as by Berger's lifelong respect for seasonality, terroir and sea foraging, with all ingredients sustainably sourced from the oceans or within 50km of a coastline.
Still, only in his thirties, Berger has already made waves on the global culinary stage with his cutting-edge, unconventional dishes refined with traditional French technique that has become his signature. The youngest and only chef in the country to be featured in the top 100 in the Best Chef Awards for five consecutive years, Berger has set himself apart in the busy Dubai dining scene with his visionary approach to pairing ingredients and application of beauty and art to food.
With an unapologetic embrace of progressive fine dining in a city that traditionally favours a more relaxed approach, Berger's next chapter for Ossiano harks to a new age in culinary for Dubai, set to escalate with the arrival of the San Pellegrino World's 50 Best, Michelin and Gault & Millau, of which Ossiano received one star in June's Michelin ceremony
A native of Versailles, Paris, Berger was raised in the Morbihan region of Brittany in France. Spending his younger years in a coastal city where land meets the city, Berger quickly became accustomed to quality ingredients and cooking whilst spending time with his mother and grandmother in the kitchen. At 16 years old, Berger decided to realise his dream with an apprenticeship at La Closerie de Kerdrain, a gourmet restaurant in Auray created by Martine and Fernand Corfmat. Walking into the kitchen was akin to experiencing real magic for Berger, and from this moment, his path was set.
Berger's further years were spent training under an array of the world's leading culinary talents at several acclaimed Michelin star restaurants in France to large luxury resorts around the world, including Paul Bocuse, Roger Verge, and the late Gaston Lenotre, as well as Frederic Robert at la Grande Cascade Paris.