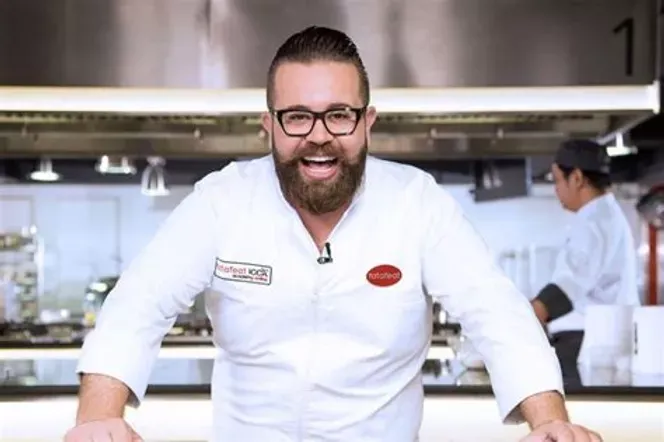 Biography
Mohamad Orfali is a Syrian Chef and co-owner of ORFALI BROS academy and restaurant based in Dubai.
Mohamad specializes in Aleppian cuisine and contemporary Arabic cuisine, and is the leading Arab proponent of modern cooking—the movement to incorporate technology and new techniques in the preparation and presentation of food. He is also credited with hosting the Middle East's very first Arabic gastronomy cooking shows.
Early Life and Career:
Mohamad was born and raised in Aleppo, the gastronomy capital of Syria and Levantine countries. His interest in cooking began at a young age, and quickly turned into a passion for food and the culinary world at large —a world he would soon call his own.
In 1997, Mohamad joined the Institute Hotelier of Aleppo where he completed his studies. During that time and despite his fascination with French cuisine, Mohamad discovered an irrepressible interest in the cuisine of his hometown, Aleppo. In 2009, he pursued further studies at Le Nôtre Culinary School, Paris, where his courses included "Mastering the Art of Preserves", "Sous Vide Cooking", and "Cuisine according to Chef Joël Robuchon".
Mohamad, was the Head of Culinary Content at the Discovery network's FATAFEAT TV for 9 years, has hosted four cooking shows on the Fatafeat channel: Matbakhna Al Arabi for 5 seasons, Arabic Modern Cuisine for 3 seasons, the Hakawi show for 1 season, Fatafeat ICCA online Academy show, ORF in Singapore and What ORF loves to eat.
Before joining Fatafeat, part of Discovery networks, Chef Orfali spent more than 5 years as an Executive Chef with the Alshaya Group across the GCC.
Cooking Shows:
Matbakhna Al Arabi (5 seasons): The first season revolved around Aleppian and Levantine cuisines. However, the second season included other Arab cuisines, including Moroccan, Tunisian, and Arabian Gulf cuisines, all with his own personal twist.
The third, fourth and fifth seasons was a turning point for Matbakhna Al Arabi as Chef Orfali presented the Arabic cuisine in more contemporary interpretations, using modern technology to prove that Arabic cuisine's rich variety of ingredients can be useful in Modern Cooking.
Arabic Modern Cuisine (3 seasons): The Middle East's first cooking show to introduce contemporary gastronomy to Arabic cuisine.
Hakawi: Chefs Tarek Ibrahim and Mohamad Orfali speak about their culinary experiences, share exciting cooking tips, and the heritage behind Halabi and Alexandrian cuisines.
Fatafeat ICCA Academy: A new culinary show hosted by Mohamad and the academy. This joint initiative between Fatafeat and the International Centre for Culinary Arts – ICCA Dubai, delivers a new way of learning about food online.
ORF in Singapore: a YouTube show where ORF discovers the street food in Singapore.
What ORF loves to Eat (2 seasons): Orfali presents a plethora of his favorite recipes (what his loves to eat) in the comfort of his very own kitchen.
Publishing:
Published in 2012, Mohamad's first cookbook "Ana Halabi" focuses on the heritage and individual ingredients of Aleppian Cuisine.