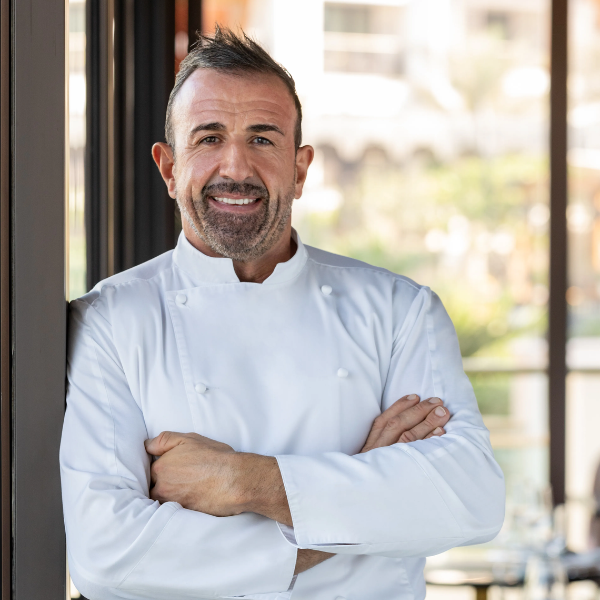 About Chef
At the helm of fine-dining restaurant, Al Muntaha, is acclaimed Chef Saverio Sbaragli. Located on the 27th floor of Burj Al Arab Jumeirah, award-winning Al Muntaha, meaning 'the ultimate' in Arabic, instantly matches expectations with its location. Suspended 200 meters above the Arabian Gulf, Al Muntaha offers an unrivaled panorama of the Jumeirah coastline and the finest French and Italian cuisine in a sophisticated setting.
Born and raised in Tuscany, Saverio grew up with a deep understanding and appreciation for Italian cuisine. To develop his culinary skills, Saverio moved to France where he trained under Michelin starred chefs, Alain Ducasse and Alain Passard. Here he developed his knowledge and skills in French cooking and learnt the importance of sauce and consommé. Saverio then returned to Italy to bring his skills and experience to Enoteca Pinchiorri in Florence. In 2012, he moved to Switzerland and worked at Il Lago, Four Seasons de Bergues Geneva, where he was awarded his first Michelin star. In 2018, he took up the role as Head Chef at Tosca, located in the heart of Geneva, and received his second Michelin star. His next step was to take up the position as Head Chef at Al Muntaha, where Chef Saverio showcases French fine-dining cuisine with Italian influences. Re-interpreting classic dishes, Saverio serves up one of Dubai's most exquisite culinary experiences.
Saverio showcases his expertise in every single dish, adding authenticity and his own recipe, making each dish on the menu truly unique. During his time at Al Muntaha, Saverio has elevated the quality of the food offering by sourcing the best ingredients available in the market, while still controlling the food cost. In addition, he has brought in professionals from the best restaurants all over the world to form his team, creating the highest level of service and a refined guest journey. Through his constant innovation, Saverio has implemented several unique experiences at Al Muntaha including a decadent cheese trolley and infusion trolley. Always striving for excellence, Saverio has been key in the success of the restaurant, always going above and beyond to deliver. He also played a pivotal role in organising the private Vogue Arabia and Cartier event on the helipad, curating an exquisite dining experience that garnered international interest.